Here is everything you need to know about the amazing Pixar movie Monsters Inc. including casting, reviews, fun facts and more. I hope you find this listing informative and helpful!
Description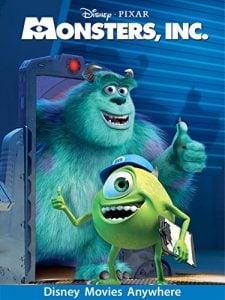 "Monsters, Inc." is an animated comedy film produced by Pixar Animation Studios and released by Walt Disney Pictures in 2001. The film is directed by Pete Docter and co-directed by David Silverman and Lee Unkrich. It takes place in a world where monsters generate power for their city by scaring children in their bedrooms.
The story follows two main characters, Sulley (voiced by John Goodman) and Mike Wazowski (voiced by Billy Crystal), who work at the Monsters, Inc. factory. Sulley is a large, blue, furry monster, while Mike is a small, green, one-eyed monster. They are best friends and the top-scaring team at the factory.
One day, a human child accidentally enters the monster world. Named Boo, the little girl becomes the center of attention, as monsters believe that human children are toxic. Sulley and Mike must find a way to return Boo to her world safely while protecting her from the factory's sinister manager, Randall (voiced by Steve Buscemi).
As Sulley and Mike spend time with Boo, they discover that she is not dangerous and that laughter is a more powerful source of energy than screams. With this newfound knowledge, they revolutionize the scare industry and change the monster world forever.
"Monsters, Inc." received critical acclaim for its unique concept, heartwarming story, and exceptional animation. The film's success led to a prequel, "Monsters University," released in 2013, which explores Sulley and Mike's college days and how they became friends.
The movie remains a beloved classic in the animation genre, resonating with both children and adults for its humor, touching moments, and messages about friendship, empathy, and the importance of laughter. The characters of Sulley, Mike, and Boo have become iconic figures in the world of animated films, contributing to the film's lasting popularity and cultural impact.
---
Monsters Inc. Fun Facts
The film was directed by Pete Docter, who later went on to direct other Pixar hits such as "Up" and "Inside Out."
"Monsters, Inc." takes place in the monster world, where monsters generate power by scaring children. It explores themes of friendship, teamwork, and overcoming fears.
The main characters in the film are Sulley, a large blue monster voiced by John Goodman, and his best friend and scare assistant, Mike Wazowski, voiced by Billy Crystal.
The concept for the film was inspired by a childhood fear of monsters under the bed that Pete Docter had. He wanted to explore the idea of monsters being scared of children instead.
"Monsters, Inc." was a critical and commercial success, grossing over $562 million worldwide and receiving acclaim for its animation, storytelling, and voice acting.
The film introduced the adorable character of Boo, a young human girl who accidentally enters the monster world. Boo's relationship with Sulley forms a central part of the story.
The voice cast includes notable actors such as Steve Buscemi, Jennifer Tilly, and James Coburn, who bring various monster characters to life.
"Monsters, Inc." won the Academy Award for Best Original Song for the Randy Newman-penned song "If I Didn't Have You," performed by Billy Crystal and John Goodman.
The movie spawned a prequel titled "Monsters University" (2013), which explores the origins of Sulley and Mike's friendship during their college years.
"Monsters, Inc." has become a beloved part of popular culture, with its characters, such as Sulley and Mike, remaining iconic in the world of animation.
---
Crew:
Director: Pete Docter
Producer: Darla Anderson
Music: Randy Newman
---
Additional Details
---
Monsters Inc. Trailer:
---