Here is everything you need to know about Walt Disney World's Magic Kingdom's Monsters Inc. Laugh Floor show including history, fun facts, photos and more. I hope you find this listing informative and helpful!
Monsters Inc. Laugh Floor | Disney World Description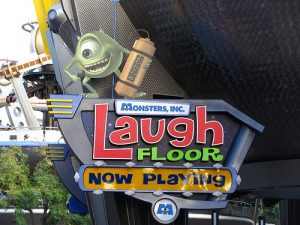 Monsters Inc. Laugh Floor is a popular and interactive comedy show located in Tomorrowland at Magic Kingdom Park, Walt Disney World Resort, Florida. Inspired by the hit Disney-Pixar film "Monsters, Inc.," the attraction allows guests to step into the world of Monstropolis and participate in a live, laugh-filled comedy performance.
The storyline centers around a comedy club called the "Monsters Inc. Laugh Floor," where monsters from the movie entertain the audience with jokes, humorous skits, and interactive segments. The main characters include Mike Wazowski, Sulley, and Roz, among others.
As guests enter the theater, they are greeted by a digital host, "Monster of Ceremonies" Mike Wazowski, who interacts with the audience in real-time using advanced technology. The show features a blend of scripted comedy and improvisation, making each performance unique and tailored to the audience's reactions.
During the show, guests are encouraged to participate by submitting their jokes or funny stories using their mobile phones. These audience-submitted jokes are incorporated into the performance, creating a dynamic and engaging experience for everyone.
Monsters Inc. Laugh Floor is a family-friendly attraction that appeals to guests of all ages. It provides an opportunity for young and old alike to share in the laughter and become part of the show. The comedic elements and interactivity make it a fun and lighthearted experience, adding to the magic of a day at the Magic Kingdom.
---
Monsters Inc. Laugh Floor | Disney World Details