Here is everything you need to know about the amazing Disney movie National Treasure: Book Of Secrets including casting, reviews, fun facts and more. I hope you find this listing informative and helpful!
Description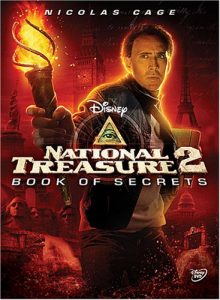 "National Treasure: Book of Secrets" is a 2007 adventure film and the sequel to the 2004 movie "National Treasure." Directed by Jon Turteltaub and produced by Walt Disney Pictures, the film continues the journey of treasure hunter Benjamin Franklin Gates, played by Nicolas Cage, and his quest for historical artifacts.
In this installment, Ben Gates sets out to clear his family's name after his ancestor is accused of being involved in the assassination of President Abraham Lincoln. To do this, he must find the legendary City of Gold, which is said to be a hidden treasure with immense historical significance. Alongside his loyal team, including Riley Poole (Justin Bartha) and Abigail Chase (Diane Kruger), Ben embarks on a thrilling adventure across the globe to uncover hidden clues and solve intricate puzzles that lead him closer to the truth.
Throughout the film, the group encounters various challenges and dangerous situations, including encounters with secret societies, historical figures' secrets, and cryptic riddles. As they delve deeper into the mystery, they discover that the answers lie within the pages of the Book of Secrets, a legendary tome rumored to contain hidden truths and untold history.
"National Treasure: Book of Secrets" captivates audiences with its blend of action, history, and intrigue. The film incorporates real historical events and landmarks, weaving them into the fictional storyline, which adds an educational element to the entertainment.
The movie received a positive response from audiences and was a commercial success, grossing over $450 million worldwide. While critics noted its formulaic plot, they praised its entertaining action sequences and charismatic performances, especially from Nicolas Cage.
The success of "National Treasure: Book of Secrets" led to discussions about a potential third installment, though no official confirmation has been made as of my last update in September 2021.
---
Cast:
Nicolas Cage: Benjamin Franklin "Ben" Gates
Diane Kruger: Dr. Abigail Chase
Justin Bartha: Riley Poole
Jon Voight: Patrick Henry Gates
Helen Mirren: Dr. Emily Appleton-Gates
Ed Harris: Mitchell "Mitch" Wilkinson
Harvey Keitel: FBI Special Agent Peter Sadusky
Armando Riesco: FBI Special Agent Hendricks
Alicia Coppola: FBI Special Agent Spellman
Albert Hall: Dr. Nichols
Bruce Greenwood: President of the United States
Ty Burrell: Connor
---
Crew:
Director: Jon Turtletaub
Producer: Jerry Bruckheimer and Jon Turteltaub
Music: Trevor Rabin
---
Additional Details
---
National Treasure: Book Of Secrets Trailer:
---