Here is everything you need to know about the amazing Disney movie National Treasure including casting, reviews, fun facts and more. I hope you find this listing informative and helpful!
National Treasure Description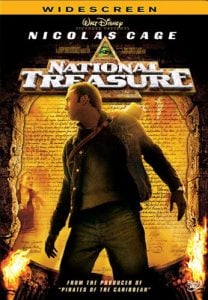 Ever since he was a boy, Gates has been obsessed with finding the legendary Knights Templar Treasure, the greatest fortune known to man. As Gates tries to find and decipher ancient riddles that will lead him to it, he's dogged by a ruthless enemy who wants the riches for himself. Now in a race against time, Gates must steal one of America's most sacred and guarded documents – the Declaration of Independence – or let it, and a key clue to the mystery, fall into dangerous hands.
---
National Treasure Fun Facts
The film was shot on location in various parts of the United States, including Washington, D.C., Philadelphia, and New York City.
The idea for the film came from a conversation between director Jon Turteltaub and screenwriter Jim Kouf, who were discussing the possibility of a heist movie set in a museum.
The film's story is loosely based on the myth surrounding the Knights Templar and their supposed connection to the discovery and hiding of a vast treasure.
Nicolas Cage's character, Benjamin Gates, is named after Benjamin Franklin and Gates McFadden, an actress known for her role in Star Trek: The Next Generation.
The film's famous line, "I'm going to steal the Declaration of Independence," was ad-libbed by Nicolas Cage during a rehearsal.
The film's score was composed by Trevor Rabin, who is also known for his work on other action-adventure films such as Con Air and Armageddon.
National Treasure has since become a popular cultural reference, with the film's premise and characters being parodied in various forms of media, including television shows, video games, and even political satire.
---
National Treasure Cast:
Nicolas Cage: Benjamin Franklin Gates
Sean Bean: Ian Howe
Harvey Keitel: Agent Peter Sadusky
Jon Voight: Patrick Henry Gates
Justin Bartha: Riley Poole
Diane Kruger: Dr. Abigail Chase
Christopher Plummer: John Adams Gates
Hunter Gomez: young Benjamin Gates
Jack Koenig: young Charles Carroll
---
National Treasure Crew:
Director: Jon Turtletaub
Producer: Jerry Bruckheimer and Jon Turteltaub
Music: Trevor Rabin
---
National Treasure Details
National Treasure Trailer:
---