Here is everything you need to know about the amazing Disney movie Phineas and Ferb the Movie: Across the 2nd Dimension including casting, reviews, fun facts and more. I hope you find this listing informative and helpful!
Description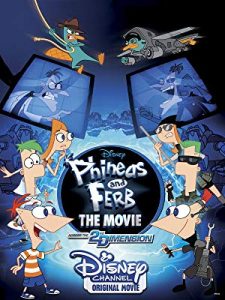 "Phineas and Ferb the Movie: Across the 2nd Dimension" is an animated Disney Channel Original Movie based on the popular animated TV series "Phineas and Ferb." It was released in 2011 and serves as a continuation of the show's storyline. The movie was directed by Dan Povenmire and Robert F. Hughes.
The story follows the stepbrothers Phineas Flynn and Ferb Fletcher as they discover that their pet platypus, Perry, is a secret agent known as Agent P. Perry's nemesis, Dr. Heinz Doofenshmirtz, creates an "Otherdimensionator" that accidentally transports Phineas, Ferb, Perry, and several of their friends to an alternate dimension where an evil and more successful version of Doofenshmirtz rules the Tri-State Area.
In this dimension, Phineas and Ferb encounter their alternate selves, who are brooding and dark counterparts. They team up with their alter egos and other resistance fighters to stop the evil Doofenshmirtz and his army of Norm bots from conquering their world and the original dimension.
Throughout the movie, the characters undergo personal growth, and Phineas and Ferb come to understand the consequences of their actions. The film explores themes of friendship, identity, and the importance of appreciating one's reality.
"Phineas and Ferb the Movie: Across the 2nd Dimension" received critical acclaim for its clever humor, engaging storyline, and well-developed characters. Fans of the TV series appreciated the movie's continuation and the opportunity to see their beloved characters in an exciting new adventure.
The film also features a soundtrack with original songs that complement the story and add to the overall enjoyment. The movie's success led to more Phineas and Ferb projects, including specials and spin-offs.
In summary, "Phineas and Ferb the Movie: Across the 2nd Dimension" is a delightful and entertaining animated film that appeals to fans of the TV series and newcomers alike. It is a heartwarming and action-packed adventure that captures the essence of what made "Phineas and Ferb" a beloved show for viewers of all ages.
---
Cast:
Vincent Martella: Phineas Flynn
Thomas Brodie-Sangster: Ferb Fletcher
Ashley Tisdale: Candace Flynn
Dee Bradley Baker: Perry
Dan Povenmire: Dr. Heinz Doofenshmirtz
Jeff "Swampy" Marsh: Major Monogram
Tyler Alexander Mann: Carl
Mitchel Musso: Jeremy Johnson
Alyson Stoner: Isabella Garcia-Shapiro
Caroline Rhea: Linda Flynn-Fletcher
Richard O'Brien: Lawrence Fletcher
John Viener: Norm
Kevin Michael Richardson: Normbots
Kelly Hu: Stacy Hirano
Maulik Pancholy: Baljeet Rai
Bobby Gaylor: Buford van Stomm
Jack McBrayer: Irving
Jaret Reddick: Danny
Carlos Alazraqui: Bobbi Fabulous
Steve Zahn: Sherman "Swampy"
Doris Roberts: Mrs. Thompson
Olivia Olson: Vanessa Doofenshmirtz
Slash: himself
Loni Love: Pet Store Owner
---
Crew:
Director: Dan Povenmire and Robert F. Hughes
---
Additional Details
Movie Studio: Disney
Year Released: 2011
Type of Movie: Animated
Movie Platform: Disney Channel Original Movie
---
Phineas and Ferb the Movie: Across the 2nd Dimension Trailer:
---