Here is everything you need to know about the amazing Disney movie Piglet's Big Movie including casting, reviews, fun facts and more. I hope you find this listing informative and helpful!
Piglet's Big Movie Description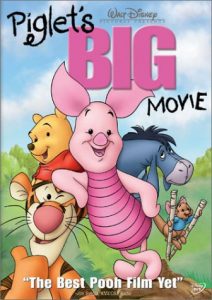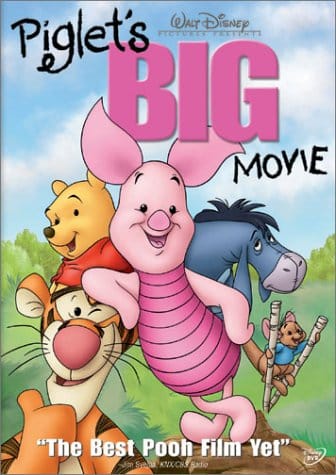 "Piglet's Big Movie" is a 2003 animated musical adventure film based on the characters from A.A. Milne's Winnie the Pooh books. It was produced by Walt Disney Television Animation and released by Walt Disney Pictures. The film is the second theatrical Winnie the Pooh adaptation after "The Tigger Movie" and follows the adventures of Piglet, a small and timid pig, as he sets out to find his purpose among his friends in the Hundred Acre Wood.
The story begins with Piglet feeling unimportant and insignificant compared to his friends like Winnie the Pooh, Tigger, Rabbit, and Eeyore. When he decides to run away, his friends are worried and embark on a search to find him. Unbeknownst to them, Piglet has left a trail of acorns as clues for them to follow.
As Piglet's friends follow the trail, they reminisce about the many adventures they had with him and realize just how much he means to them. Meanwhile, Piglet ends up in a series of mishaps and misadventures on his own journey.
In the end, Piglet's friends come together to rescue him, showing him that he is an essential part of their group and that each of them has their unique qualities that make them special. Piglet learns that even though he may be small, he is brave, caring, and plays a vital role in the lives of his friends.
"Piglet's Big Movie" is heartwarming and filled with themes of friendship, self-discovery, and acceptance. The film features delightful songs, memorable characters, and the classic charm of the Hundred Acre Wood. It also highlights the importance of valuing each individual's strengths and contributions within a community.
While "Piglet's Big Movie" received mixed reviews from critics, it was well-received by audiences, especially young children who enjoyed the endearing characters and playful adventures. The film's success contributed to the enduring popularity of the Winnie the Pooh franchise, which has continued to captivate audiences of all ages with its timeless charm and meaningful messages.
In conclusion, "Piglet's Big Movie" is a heartwarming animated film that celebrates friendship, individuality, and the importance of being part of a supportive community. It remains a beloved addition to the Winnie the Pooh series, offering delightful entertainment for families and fans of these classic characters.
---
Piglet's Big Movie Crew:
Director: Francis Glebas
Producer: Michelle Pappalardo-Robinson
---
Piglet's Big Movie Details
Piglet's Big Movie Trailer:
---