Here is everything you need to know about the amazing Disney movie The Mighty Ducks including casting, reviews, fun facts and more. I hope you find this listing informative and helpful!
The Mighty Ducks Description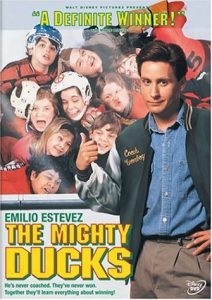 "The Mighty Ducks" is a sports-comedy film released in 1992. It tells the story of Gordon Bombay, played by Emilio Estevez, a successful lawyer who is sentenced to community service for drunk driving. As part of his punishment, he is forced to coach a youth ice hockey team, the District 5 Ducks.
Initially, Bombay is reluctant and unenthusiastic about the coaching role, but he soon discovers that the team of misfits has potential. He decides to turn them into a competitive team, teaching them valuable life lessons and skills both on and off the ice. Under Bombay's guidance, the Ducks learn about teamwork, sportsmanship, and determination.
As the team grows and improves, they face various challenges and rivalries, culminating in a final showdown against a talented and well-funded team known as the Hawks. The movie showcases the Ducks' transformation from underdogs to champions and emphasizes the importance of believing in oneself and working together as a team.
"The Mighty Ducks" was a commercial success and led to two sequels, "D2: The Mighty Ducks" (1994) and "D3: The Mighty Ducks" (1996), as well as a spin-off animated TV series. The film's heartwarming and inspirational story, coupled with humorous and heartwarming moments, has made it a beloved classic among sports movies and a favorite among families and sports enthusiasts alike.
---
The Mighty Ducks Cast:
Emilio Estevez: Gordon Bombay
Joss Ackland: Hans
Lane Smith: Coach Jack Reilly
Heidi Kling: Casey Conway
Josef Sommer: Mr. Gerald Ducksworth
Joshua Jackson: Charlie Conway
Elden Henson: Fulton Reed
Shaun Weiss: Greg Goldberg
Brandon Adams: Jesse Hall
C. Gainey: Lewis
Matt Doherty: Lester Averman
D. Daniels: Peter Mark
Aaron Schwartz: Dave Karp
Garette Ratliff Henson: Guy Germaine
Marguerite Moreau: Connie Moreau
Vincent Larusso: Adam Banks
Jussie Smollett: Terry Hall
Danny Tamberelli: Tommy Duncan
Jane Plank: Tammy Duncan
Michael Ooms: McGill
Casey Garven: Larson
Hal Fort Atkinson III: Phillip Banks
Basil McRae: Himself
Mike Modano: Himself
John Beasley: Mr. Hall
Brock Pierce: Young Gordon Bombay
Robert Pall: Gordon's Father
John Paul Gamoke: Mr. Tolbert
Steven Brill: Frank Huddy
George Coe: Judge
---
The Mighty Ducks Crew:
Director: Stephen Herek
Producers: Jon Avnet and Jordan Kerner
Music: David Newman
---
The Mighty Ducks Details
The Mighty Ducks Trailer:
---