Here is everything you need to know about the amazing Disney series Amphibia including casting, episodes, fun facts and more. I hope you find this listing informative and helpful!
Amphibia Description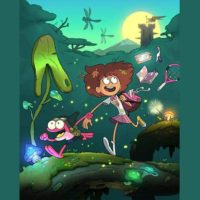 "Amphibia" is an animated television series that premiered on Disney Channel on June 17, 2019. The show was created by Matt Braly and quickly became a hit among audiences of all ages for its captivating storytelling, endearing characters, and stunning animation.
The series follows the adventures of Anne Boonchuy, a 13-year-old girl from the modern world who finds herself magically transported to the fantastical world of Amphibia. Upon arriving, Anne discovers that she has been transformed into a frog, and she must learn to adapt to her new life in this strange and wondrous land.
In Amphibia, Anne befriends two local inhabitants: Sprig Plantar, an adventurous and optimistic young frog, and his wise and caring grandfather, Hop Pop. Together, they embark on a journey filled with peril and excitement, as they encounter mythical creatures, uncover ancient mysteries, and navigate the challenges of a world vastly different from Anne's own.
As the story unfolds, Anne's experiences in Amphibia lead to personal growth and self-discovery. She learns the importance of friendship, teamwork, and embracing her own strengths and vulnerabilities.
"Amphibia" is praised for its rich world-building, imaginative storytelling, and well-developed characters. The show combines elements of adventure, fantasy, and comedy, making it appealing to viewers of all ages. Additionally, the animation style and design of Amphibia's diverse landscapes and unique creatures contribute to its visual appeal.
The show's themes of friendship, resilience, and the importance of family resonate with audiences, and its lighthearted humor adds an extra layer of enjoyment.
"Amphibia" received critical acclaim and a dedicated fan base, leading to multiple seasons and further exploration of the characters and the world they inhabit.
Overall, "Amphibia" is a standout animated series that showcases Disney's commitment to creating compelling and entertaining storytelling. Its charming characters and engaging narrative have made it a beloved addition to Disney Channel's lineup, captivating audiences with its magical and adventurous spirit.
---
Amphibia Cast:
Brenda Song – Anne Boonchuy
Jill Bartlett – Maddie
Amanda Leighton – Polly
---
Amphibia Details:
Year of Debut: 2019
Type of Series: Animated
TV Channel/Platform: Disney Channel
Amphibia Trailer: