Here is everything you need to know about the amazing Disney series Big City Greens including casting, episodes, fun facts and more. I hope you find this listing informative and helpful!
Big City Greens Description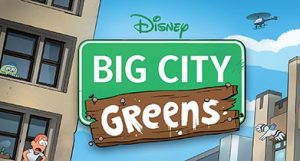 "Big City Greens" is an animated television series that premiered on Disney Channel on June 18, 2018. The show was created by brothers Chris and Shane Houghton and quickly gained popularity for its humor, heartwarming moments, and quirky characters.
The series follows the Green family, who live on a farm in the rural town of Big City Greens. The family consists of Bill Green, the hardworking and practical father; his wife, Nancy, a caring and nurturing mother; and their two children, Cricket and Tilly Green.
Cricket Green, the main protagonist, is a mischievous and adventurous young boy who is always getting into trouble and going on wild escapades. He dreams of experiencing the excitement of the big city, which often leads to humorous and unpredictable situations.
Tilly Green, Cricket's older sister, is the complete opposite of him. She is kind-hearted, introverted, and has a passion for nature and animals. Tilly's calm and grounded personality serves as a balance to Cricket's impulsiveness.
Throughout the series, the Greens interact with a variety of eccentric and memorable characters in Big City, where they move after facing a series of farm-related mishaps. While navigating city life, the family learns valuable life lessons, discovers the importance of family bonds, and experiences personal growth.
"Big City Greens" is known for its charming animation style, quirky humor, and relatable family dynamics. The show's episodic structure allows for standalone adventures while maintaining an overarching story of the Greens' adjustment to urban living.
In addition to its entertaining storylines, "Big City Greens" also emphasizes themes of friendship, perseverance, and embracing the differences in others.
The show has been well-received by audiences of all ages and has been praised for its entertaining content and positive messages. "Big City Greens" adds to Disney Channel's legacy of producing engaging and family-friendly animated series that capture the spirit of adventure and the importance of family ties.
---
Big City Greens Cast:
Chris Houghton: Cricket Green
Marieve Herington: Tilly Green
Bob Joles: Bill Green
Artemis Pebdani: Gramma Alice
Zeno Robinson: remy
Anna Akana: Gloria
Andy Daly: Officer Keys
Luke Lowe: Benny
Wendi McLendon-Covey: Nancy Green
---
Big City Greens Details:
Year of Debut: 2018
Type of Series: Animated
TV Channel/Platform: The Disney Channel
Big City Greens Trailer:
Buy Movie
---