Here is everything you need to know about the amazing Disney series Bizaardvark including casting, episodes, fun facts and more. I hope you find this listing informative and helpful!
Bizaardvark Description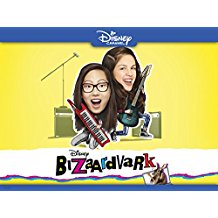 "Bizaardvark" is a live-action comedy television series that aired on Disney Channel from June 24, 2016, to April 13, 2019. The show was created by Kyle Stegina and Josh Lehrman and targeted a young audience, particularly tweens and teenagers.
The series revolves around two best friends, Frankie Wong (played by Madison Hu) and Paige Olvera (played by Olivia Rodrigo), who are aspiring to become internet sensations and content creators. They start their own web show called "Bizaardvark," where they create and upload comedic videos to showcase their talents and creativity.
"Bizaardvark" showcases the ups and downs of being online influencers, exploring the challenges and rewards of internet fame. As Frankie and Paige work on their web show, they navigate the complexities of the digital world, facing the pressures of popularity, the importance of staying true to themselves, and the occasional internet trolls.
The two protagonists are joined by their fellow "Vuuuglers" (Vuuugle being the fictional video-sharing platform in the show). The Vuuuglers include Dirk Mann (played by Jake Paul), a daredevil prankster, and Amelia Duckworth (played by DeVore Ledridge), a quirky and fashionable lifestyle vlogger.
Throughout the series, "Bizaardvark" features comedy sketches, parodies, and original songs that are all part of the fictional web show created by Frankie and Paige. The show's humor and relatable themes resonate with its target audience and provide insight into the world of content creation and social media.
As the characters pursue their dreams of internet stardom, they also experience growth, learn valuable lessons, and develop a deeper understanding of the responsibilities that come with their online influence.
"Bizaardvark" was praised for its humor, engaging characters, and relevance to contemporary youth culture. It provided a lighthearted and entertaining look at the world of internet content creation and resonated with young viewers who are familiar with the social media landscape.
The show's run on Disney Channel contributed to the network's legacy of creating family-friendly and relatable content that reflects the experiences and interests of its young audience.
---
Bizaardvark Cast:
Olivia Rodrigo as Paige Olvera
Madison Hu as Frankie Wong
DeVore Ledridge as Amelia Duckworth
Ethan Wacker as Bernard "Bernie" Schotz
---
Bizaardvark Crew:
Creators: Kyle Stegina & Josh Lehrman
Executive Producers: Eric Friedman and Ron Rappaport
Producers: Jason Shubb and Justin Varava
---
Bizaardvark Details:
Year of Debut: 2016
Year of Finale: 2019
Type of Series: Live-Action
TV Channel/Platform: The Disney Channel
Bizaardvark Trailer:
Buy Movie
---