Here is everything you need to know about the amazing Disney series Bunk'd including casting, episodes, fun facts and more. I hope you find this listing informative and helpful!
Bunk'd Description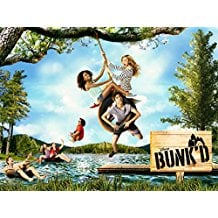 "Bunk'd" is a live-action comedy television series that premiered on Disney Channel on July 31, 2015. It is a spin-off and continuation of the popular series "Jessie," which aired on Disney Channel from 2011 to 2015. The show was created by Pamela Eells O'Connell, who also created "Jessie."
The series follows the adventures of three siblings, Emma, Ravi, and Zuri Ross, who leave their luxurious penthouse in New York City to attend a rustic summer camp in Maine called Camp Kikiwaka. At Camp Kikiwaka, they are reunited with their former nanny, Jessie Prescott (played by Debby Ryan), who is now a counselor.
"Bunk'd" focuses on the Ross siblings as they navigate the challenges of camp life, make new friends, and participate in various camp activities. The series introduces a new group of campers and camp counselors, each with their own unique personalities and quirks.
Throughout the show, "Bunk'd" offers a mix of humor, friendship, and adventure, with each episode highlighting the campers' misadventures, camaraderie, and personal growth. As the campers bond, they learn valuable life lessons and develop lasting friendships.
The show features recurring themes of teamwork, self-discovery, and acceptance, all set against the backdrop of the picturesque Camp Kikiwaka and its wilderness surroundings.
"Bunk'd" became a hit among Disney Channel's young audience, building on the success of "Jessie" and bringing a fresh and entertaining summer camp setting to the screen. The cast's chemistry, relatable characters, and comedic moments contributed to the show's popularity.
The series ran for several seasons, with new campers and counselors joining the cast as the show progressed. "Bunk'd" provided an engaging and family-friendly viewing experience, showcasing the joys and challenges of the summer camp experience while instilling positive values and messages for its young viewers.
---
Bunk'd Cast:
Starring are Peyton List (Disney Channel Original Movie "The Swap," "The Outskirts") as Emma Ross; Karan Brar ("Pacific Rim: Uprising," "Diary of a Wimpy Kid" Film Series) as Ravi Ross; Skai Jackson ("The Watsons Go to Washington") as Zuri Ross; Miranda May ("The Heartbreak Kid," "Samantha Who?") as Lou; Raphael Alejandro ("Once Upon a Time") as Matteo; Will Buie, Jr. ("Daytime Divas") as Finn and Mallory James Mahoney (Disney Channel Original Movie "Adventures in Babysitting") as Destiny.
---
Bunk'd Details:
Year of Debut: 2015
Type of Series: Live-Action
TV Channel/Platform: The Disney Channel
Bunk'd Trailer:
Buy Movie
---