Here is everything you need to know about the amazing Disney series Dinosaurs including casting, episodes, fun facts and more. I hope you find this listing informative and helpful!
Dinosaurs Description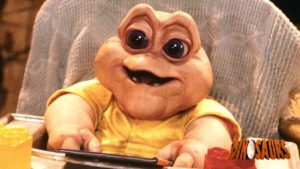 "Dinosaurs" is a television show that aired on ABC from 1991 to 1994. The show was a family comedy that used puppetry and animatronics to bring its characters, a family of anthropomorphic dinosaurs, to life.
The show followed the daily lives of the Sinclair family, which consisted of Earl and Fran Sinclair, their three children, and Earl's mother-in-law. The family lived in a prehistoric world that was populated by a variety of different dinosaur species, all of whom had developed a modern, human-like society.
The show was known for its clever writing and sharp social commentary, which often used the fictional world of the show as a way to explore real-world issues like environmentalism, consumerism, and social inequality. Despite being aimed at a family audience, the show often tackled complex and mature themes, and was known for pushing the boundaries of what was acceptable in children's television.
The show's use of puppetry and animatronics was also a notable feature, and helped to give the show a unique visual style. The show's main character, Earl Sinclair, was particularly popular and became something of a cultural icon in the early 1990s.
Despite its popularity and critical acclaim, "Dinosaurs" was ultimately canceled after four seasons due to declining ratings. However, the show remains a beloved part of 1990s pop culture, and its combination of family-friendly humor and cutting social commentary continues to resonate with audiences today.
---
Dinosaurs Cast:
Earl Sinclair: Stuart Pankin
Fran Sinclair: Jessica Walter
Robbie Sinclair: Jason Willinger
Charlene Sinclair: Sally Struthers
Baby Sinclair: Kevin Clash
---
Dinosaurs Crew:
Developed By: Jim Henson
Creator: Michael Jacobs and Bob Young
---
Dinosaurs Details:
Dinosaurs Trailer:
---