Here is everything you need to know about the amazing Disney series Gravity Falls including casting, episodes, fun facts and more. I hope you find this listing informative and helpful!
Gravity Falls Description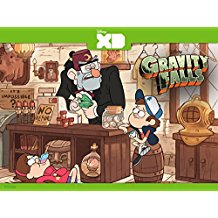 "Gravity Falls" is an animated mystery-comedy television series that aired on Disney Channel and Disney XD from June 15, 2012, to February 15, 2016. The show was created by Alex Hirsch.
The series revolves around the adventures of twin siblings, Dipper Pines (voiced by Jason Ritter) and Mabel Pines (voiced by Kristen Schaal), who are sent to spend the summer with their great-uncle, Stan Pines (voiced by Alex Hirsch), in the mysterious town of Gravity Falls, Oregon.
The town of Gravity Falls is full of supernatural creatures, odd occurrences, and strange phenomena. Dipper, the curious and analytical brother, and Mabel, the free-spirited and imaginative sister, encounter a wide range of fantastical and quirky characters as they explore the mysteries of the town.
Throughout the series, Dipper and Mabel uncover the secrets of Gravity Falls, which lead them on thrilling and often dangerous adventures. Along the way, they are assisted by their friends Wendy Corduroy (voiced by Linda Cardellini), Soos Ramirez (voiced by Alex Hirsch), and others.
"Gravity Falls" is known for its clever writing, engaging storytelling, and well-developed characters. It skillfully balances humor, mystery, and heartfelt moments, captivating both younger audiences and adult viewers.
The show gained a dedicated fan base and critical acclaim for its creativity and unique approach to storytelling. It garnered praise for its intricate plotlines, hidden codes, and Easter eggs that encouraged fans to engage in theories and solve mysteries alongside the characters.
"Gravity Falls" received several awards, including two Annie Awards and a BAFTA Children's Award, and is often regarded as one of the best animated series of its time.
Though the series ended after two seasons, its impact on popular culture and its devoted fan following continue to endure. "Gravity Falls" remains a beloved and iconic animated show that has left a lasting impression on its viewers.
---
Gravity Falls Details:
Year of Debut: 2012
Year of Finale: 2016
Type of Series: Animated
TV Channel/Platform: The Disney Channel
Gravity Falls Trailer:
Buy Movie
---