Here is everything you need to know about the amazing Disney series Kiff including casting, episodes, fun facts and more. I hope you find this listing informative and helpful!
Kiff Description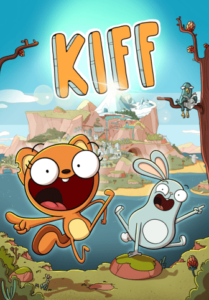 Disney Branded Television's upcoming animated buddy-comedy series will star Kimiko Glenn ("Orange Is the New Black") in the titular role of Kiff, an optimistic squirrel whose thirst for life takes her on countless adventures through her town. H Michael Croner ("Craig of the Creek") will co-star as her naive and lovable bestie, a bunny named Barry. Slated to premiere in 2023 on Disney Channel, the series comes from South African creators and executive producers Lucy Heavens and Nic Smal. The casting news and teaser trailer were revealed today at New York Comic Con.
Set in a world where animals and magical oddballs tackle day-to-day life alongside one another, the series follows Kiff and Barry as they navigate school, relationships and their often eccentric community.
Inspired by the people and places Heavens and Smal experienced when they were growing up in Cape Town, South Africa, each half-hour episode, comprised of two 11-minute stories, will include a new original song.
---
Kiff Cast:
Kiff Chatterley: Kimiko Glenn
Barrington "Barry" Augustus Buns III: H. Michael Croner
Martin Chatterley: James Monroe Iglehart
Beryl Chatterley: Lauren Ash
Mary Buns: Rachel House
DJ 11:30: Josh Johnson
Terri Two-Bowls: Nichole Sakura
Candle Fox: Vella Lovell
Roy Fox: Eric Bauza
Principal Secretary: Nic Smal
Helen: Lucy Heavens
Miss Deer Teacher: Deedee Magno Hall
Mr. Ri-Peppa: Eric Bauza
Miss Tulane: Lucy Heavens
Sweepy Steve: Kent Osborne
Gareth and Darryn: Tom Kenny
Trevor Angstrom: Tom Kenny
Reggie: Eric Bauza
Billiam: Eric Bauza
Patty: Sophie Kim
Renée du Bedat: Mary Mack
Miss Moufflé: Aparna Nancherla
Pawva: Katie Crown
Trollie: Rhys Darby
Glarbin Gloobin: Steve Little
The Pone: Eugene Cordero
---
Kiff Crew:
Creators: Lucy Heavens and Nic Small
Director: Allison Craig
---
Kiff Details:
Year of Debut: 2023
Type of Series: Animated
TV Channel/Platform: Disney Junior
Kiff Trailer: