Here is everything you need to know about the amazing Disney series Lizzie McGuire  including casting, episodes, fun facts and more. I hope you find this listing informative and helpful!
Lizzie McGuire  Description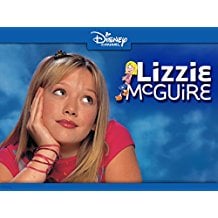 "Lizzie McGuire" is a live-action teen comedy television series that aired on Disney Channel from January 12, 2001, to February 14, 2004. The show was created by Terri Minsky and quickly became one of Disney Channel's most popular and iconic series during its original run.
The series follows the life and adventures of Lizzie McGuire, a 13-year-old girl navigating the ups and downs of middle school and adolescence. The show is known for its relatable and humorous depiction of the challenges and joys of teenage life, resonating with young viewers around the world.
Lizzie, portrayed by Hilary Duff, experiences the typical struggles of a middle school student, including dealing with friendships, schoolwork, crushes, and family dynamics. To provide insight into Lizzie's inner thoughts and emotions, the show often incorporates an animated version of her inner self, who offers witty and relatable commentary on the situations Lizzie finds herself in.
Lizzie's best friends, Miranda (played by Lalaine) and Gordo (played by Adam Lamberg), are always by her side, offering support and humor throughout her adventures. The series also features Lizzie's family, including her parents, Jo and Sam McGuire (played by Hallie Todd and Robert Carradine), and her younger brother, Matt (played by Jake Thomas).
"Lizzie McGuire" received critical acclaim for its realistic portrayal of adolescence and the relatable experiences faced by young teenagers. The show's popularity led to a feature-length film, "The Lizzie McGuire Movie," which was released in 2003 and served as a continuation of the series.
---
Lizzie McGuire  Cast:
Hilary Duff – Elizabeth Brooke McGuire
Lalaine – Miranda Sanchez
Adam Lamberg – Gordo Gordon
Jake Thomas – Matt McGuire
Hallie Todd – Jo McGuire
Robert Carradine – Sam McGuire
Amy Sanders – Haylie Duff
---
Lizzie McGuire  Details:
Lizzie McGuire  Trailer:
Buy Movie
---