Here is everything you need to know about the amazing Disney series Mira, Royal Detective including casting, episodes, fun facts and more. I hope you find this listing informative and helpful!
Mira, Royal Detective Description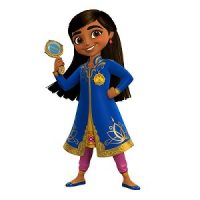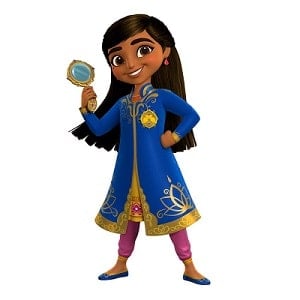 "Mira, Royal Detective" is an animated television series produced by Disney Junior. The show premiered on March 20, 2020, and is inspired by the rich cultural heritage of India. It follows the adventures of Mira, a brave and resourceful young girl who becomes the royal detective of the fictional kingdom of Jalpur.
Mira is a commoner who is appointed as the royal detective by the queen herself. With her intelligence, keen observation skills, and problem-solving abilities, Mira is tasked with solving mysteries and helping those in need throughout the kingdom. She is joined by her loyal mongoose sidekicks, Mikku and Chikku, who assist her in her detective work.
Each episode of "Mira, Royal Detective" features a new mystery for Mira to solve, and she uses her cultural knowledge and understanding of the diverse communities in Jalpur to crack the case. The show celebrates Indian culture, customs, and traditions, introducing young viewers to aspects of Indian life and folklore.
As Mira encounters different characters and situations, the series emphasizes themes of friendship, cooperation, and the value of learning from one another's differences. The show encourages inclusivity and understanding, promoting cross-cultural appreciation and respect.
"Mira, Royal Detective" has been praised for its positive representation of South Asian culture and its diverse cast of characters. The show's vibrant animation, catchy songs, and engaging storytelling make it appealing to young audiences, and it has received acclaim for its educational and culturally enriching content.
---
Mira, Royal Detective Cast:
Leela Ladnier: Mira
Freida Pinto: Queen Shanti
Hannah Simone: Pinky
Jameela Jamil: Mira's Auntie Pushpa
Kal Penn: Mikku
Utkarsh Ambudkar: Chikku
Aasif Mandvi: Mira's father
Sahil; Sarita Choudhury: Prince Neel's Great-Aunt Rupa
Aparna Nancherla: Mira's cousin Meena
Kamran Lucas: Prince Neel
Karan Brar: Prince Veer
Karan Soni: twins Ranjeet and Manjeet
Sarayu Blue: the palace tailor
Parvesh Cheena: Manish
Sonal Shah: Poonam
Roshni Edwards: Mira's cousin Priya
---
Mira, Royal Detective Crew:
Sascha Paladino: Executive Producer
Becca Topol: Story Editor
Sue Perotto: Supervising Director
Dorothea Schoentag: Art Director
Shagorika Ghosh: Cultural Consultant
---
Mira, Royal Detective Details:
Year of Debut: 2020
Type of Series: Animated
TV Channel/Platform: Disney Junior
Mira, Royal Detective Trailer:
---