Here is everything you need to know about the amazing Disney series Raven's Home including casting, episodes, fun facts and more. I hope you find this listing informative and helpful!
Raven's Home Description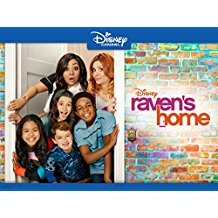 "Raven's Home" is a live-action comedy television series that premiered on Disney Channel in 2017. It is a sequel and spin-off of the popular Disney Channel series "That's So Raven," which originally aired from 2003 to 2007.
The show follows the life of Raven Baxter, portrayed by Raven-Symoné, who reprises her role from "That's So Raven." Raven is now a divorced single mother of two pre-teen twins, Booker and Nia. She lives with her best friend Chelsea Daniels, portrayed by Anneliese van der Pol, and Chelsea's son Levi.
In "Raven's Home," Raven's son, Booker, begins to display the same psychic abilities as his mother, which often lead to humorous and unpredictable situations. The series follows the close-knit group of friends and family as they navigate their lives, careers, and the ups and downs of raising children.
Throughout the show, Raven faces the challenges of being a single parent while trying to balance her work as a fashion designer and her children's unpredictable adventures. The themes of friendship, family, and embracing one's unique abilities are central to the series.
"Raven's Home" is known for its lighthearted humor, positive messages, and the return of Raven-Symoné to one of her most iconic roles. The show also incorporates elements of nostalgia for fans of the original "That's So Raven" series while introducing new characters and storylines.
---
Raven's Home Cast:
Raven-Symoné as Raven Baxter
Anneliese van der Pol as Chelsea Daniels
Issac Ryan Brown as Booker Baxter-Carter
Navia Robinson as Nia Baxter-Carter
Jason Maybaum as Levi Grayson
Sky Katz as Tess
---
Raven's Home Details:
Year of Debut: 2017
Type of Series: Live-Action
TV Channel/Platform: Disney Channel
Raven's Home Trailer:
Buy Movie
---
---