Here is everything you need to know about the amazing Disney series That's So Raven including casting, episodes, fun facts and more. I hope you find this listing informative and helpful!
That's So Raven Description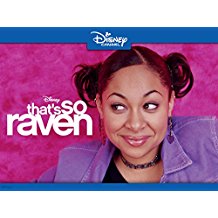 "That's So Raven" is a live-action sitcom that aired on Disney Channel from 2003 to 2007. It was created by Michael Poryes, Susan Sherman, and Alonzo Brown. The show is a significant part of Disney Channel's programming history and remains a beloved classic among fans.
The series follows the life of Raven Baxter, portrayed by Raven-Symoné. Raven is a teenager who possesses psychic abilities, including the power to have visions of the future. Along with her best friends Eddie Thomas (played by Orlando Brown) and Chelsea Daniels (played by Anneliese van der Pol), Raven navigates the challenges of high school while trying to use her psychic abilities to her advantage.
In each episode, Raven has visions that often lead to humorous and unpredictable situations. She tries to prevent the events she has seen from occurring, but her interventions sometimes end up causing even more problems. Throughout the series, Raven learns valuable life lessons about responsibility, honesty, and the importance of embracing her true self.
Raven's family is an essential part of the show's dynamic. Her parents, Victor (played by Rondell Sheridan) and Tanya (played by T'Keyah Crystal Keymáh), are supportive and loving but often find themselves caught up in the amusing chaos caused by Raven's visions. Raven's younger brother Cory (played by Kyle Massey) is mischievous and provides additional comedic moments.
"That's So Raven" broke new ground for Disney Channel by featuring a predominantly African-American cast and tackling relevant social and cultural themes. It became one of the channel's highest-rated shows and received critical acclaim for its humor, positive messages, and relatable characters.
The show's success led to a spin-off series titled "Cory in the House," which focused on Raven's younger brother Cory and his adventures as the President's (played by John D'Aquino) son living in the White House.
---
That's So Raven Cast:
Raven Symoné: Raven Lydia Baxter
Orlando Brown: Eddie Thomas
Kyle Massey: Cory Baxter
Anneliese van der Pol: Chelsea Daniels
T'Keyah Crystal Keymáh:Tanya Baxter
---
That's So Raven Details:
Year of Debut: 2003
Year of Finale: 2007
Type of Series: Live-Action
TV Channel/Platform: The Disney Channel
That's So Raven Trailer:
Buy Movie
---
---