Here is everything you need to know about the amazing Disney series That's So Raven including casting, episodes, fun facts and more. I hope you find this listing informative and helpful!
That's So Raven Description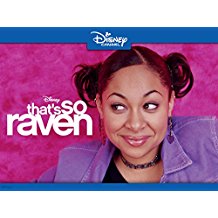 That's So Raven is a live-action sitcom about Raven Baxter, a winsome teen whose ability to glimpse flashes of the future often gets her into hot water. Getting her out (or sometimes into) these predicaments are best friends Eddie and Chelsea. Allowing her flights of fancy — yet eager to keep her feet on the ground – are her parents. And then there's precocious kid brother Cory, who is both an annoyance and invaluable resource to his big sis.
---
That's So Raven Cast:
Raven Symoné: Raven Lydia Baxter
Orlando Brown: Eddie Thomas
Kyle Massey: Cory Baxter
Anneliese van der Pol: Chelsea Daniels
T'Keyah Crystal Keymáh:Tanya Baxter
---
That's So Raven Details:
Year of Debut: 2003
Year of Finale: 2007
Type of Series: Live-Action
TV Channel/Platform: The Disney Channel
That's So Raven Trailer:
Buy Movie
---
---