Here is everything you need to know about the amazing Disney series Schoolhouse Rock!  including casting, episodes, fun facts and more. I hope you find this listing informative and helpful!
Schoolhouse Rock!  Description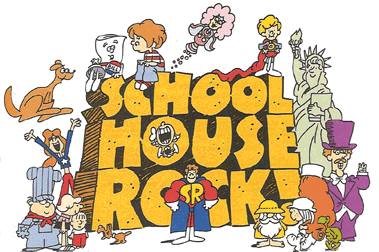 Schoolhouse Rock! is a series of educational short films that were produced by ABC in the 1970s and 1980s. The series was created to help children learn important concepts in math, science, history, and grammar through fun and catchy songs. Each episode features an animated segment with a song that teaches a specific concept, such as multiplication, the solar system, or the three branches of government. The series was created by advertising executive David McCall and musician Bob Dorough, who wrote many of the songs. Schoolhouse Rock! was popular with both children and adults and is remembered as a classic educational program. Many of the songs from the series, such as "Conjunction Junction" and "I'm Just a Bill," have become iconic and are still remembered and loved by fans today. In addition to the original series, there have been several spin-offs and adaptations, including a stage show and a DVD collection.
---
Schoolhouse Rock!  Cast:
$7.50 Once a Week: Performed by Dave Frishberg
A Noun Is A Person, Place Or Thing: Performed by Lynn Ahrens
A Tiny Urban Zoo: Performed by Barrett Foa, Shoshana Bean, and George Stiles
Busy Prepositions: Performed by Jack Sheldon and Bob Dorough
Conjunction Junction: Performed by Jack Sheldon, Terry Morel and Mary Sue Berry
Do the Circulation: Performed by Joshie Armstead, Mary Sue Berry, and Maeretha Stewart
Dollars and Sense: Performed by Val Hawk and Bob Dorough
Don't Be a Carbon Sasquatch: Performed by Bob Dorough
Elbow Room: Performed by Sue Manchester
Electricity, Electricity: Performed by Zachary Sanders
Elementary, My Dear: Performed by Bob Dorough
Fat Cat Blue: The Clean Rivers Song: Performed by Jack Sheldon, Bob Kaliban, Val Hawk, Vicki Doney and Nancy Reed
Figure Eight: Performed by Blossom Dearie
Fireworks: Performed by Grady Tate
I Got Six: Performed by Grady Tate
I'm Gonna Send Your Vote to College: Performed by Jack Sheldon and Bob Dorough
I'm Just a Bill: Performed by Jack Sheldon
Interjections!: Performed by Essra Mohawk
Interplanet Janet: Performed by Lynn Ahrens
Little Twelvetoes: Performed by Bob Dorough
Lolly, Lolly, Lolly, Get Your Adverbs Here: Performed by Bob Dorough
Lucky Seven Sampson: Performed by Bob Dorough
Mother Necessity: Performed by Bob Dorough, Blossom Dearie, Essra Mohawk, and Jack Sheldon
My Hero, Zero: Performed by Bob Dorough
Naughty Number Nine: Performed by Grady Tate
No More Kings: Performed by Lynn Ahrens & Bob Dorough
Presidential Minute (The Campaign Trail): Performed by Jack Sheldon
Ready or Not, Here I Come: Performed by Bob Dorough
Report from the North Pole: Performed by Bob Dorough, Jack Sheldon, Bob Kaliban and Barry Carl
Rufus Xavier Sarsaparilla: Performed by Jack Sheldon
Save the Ocean: Performed by Sean Altman, Inna Dukach, Jon Spurney, Patti Rothberg, Barry Carl and Eric Booker
Solar Power to the People: Performed by Lynn Ahrens, Val Hawk, Vicki Doney and Nancy Reed
Sufferin' 'til Suffrage: Performed by Essra Mohawk
Tax Man Max: Performed by Patrick Quinn
Telegraph Line: Performed by Jamie Aff and Christine Langner
The 3 R's: Performed by Mitchel Musso
The Body Machine: Performed by Bob Dorough and Jack Sheldon
The Check's in the Mail: Performed by Luther Rix and Bob Dorough
The Energy Blues: Performed by Jack Sheldon
The Four-Legged Zoo: Performed by Bob Dorough with kids chorus
The Good Eleven: Performed by Bob Dorough
The Great American Melting Pot: Performed by Lori Lieberman
The Greatest Show on Earth (The Weather Show): Performed by Bob Kaliban
The Little Things We Do: Performed by Lynn Ahrens, Jack Sheldon, Bob Dorough, Bob Kaliban, Val Hawk, Vicki Doney and Nancy Reed
The Preamble: Performed by Lynn Ahrens
The Rainforest: Performed by Tituss Burgess
The Shot Heard Round the World: Performed by Bob Dorough
The Tale of Mr. Morton: Performed by Jack Sheldon
The Trash Can Band: Performed by Lynn Ahrens, Luther Rix, Bob Dorough and Eric Weissberg
Them Not-So-Dry Bones: Performed by Jack Sheldon
This for That: Performed by Bob Dorough
Three Is a Magic Number: Performed by Bob Dorough
Three Ring Government: Performed by Lynn Ahrens
Tyrannosaurus Debt: Performed by Bob Dorough and Bob Kaliban
Unpack Your Adjectives: Performed by Blossom Dearie
Verb: That's What's Happenin': Performed by Zachary Sanders
Victim of Gravity: Performed by The Tokens
Walkin' on Wall Street: Performed by Dave Frishberg
Where the Money Goes: Performed by Jack Sheldon
Windy and the Windmills: Performed by Bob Dorough, Jack Sheldon, Val Hawk, Vicki Doney and Nancy Reed
You Oughta Be Savin' Water: Performed by Barry Carl, Sean Altman, Elliott Kerman
---
Schoolhouse Rock!  Details:
Year of Debut: 1997
Year of Finale: 2000
Type of Series: Animated
TV Channel/Platform: One Saturday Morning
Schoolhouse Rock!  Trailer:
---