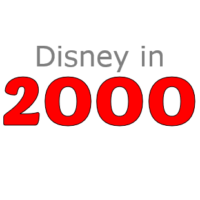 The Walt Disney Company has a rich and lengthy history with decades of amazing movies, shows and park experiences. To commemorate Disney's 100th birthday this year, I am spotlighting the company's history year by year in this new 'Disney by the Years' series.
Here is a quick rundown of everything that happened in the world of Disney in the year 2000. I hope you find this lookback in time helpful and entertaining.
Disney Company Headlines in 2000:
One noteworthy event at Disney that may not have seemed like a big deal in 2000, but had significant ramifications in the coming years, was the promotion of Bob Iger to President of Disney in January.
Disney Movies Headlines in 2000:
2000 was more or less a forgettable year at the box office for Disney. While they released a number of movies through Disney,  Touchstone and Hollywood Pictures, some to critical acclaim, none really broke through and are thought of us Disney classics.
Here is a quick rundown of what opened at the theaters in 2000 for Disney:
Disney:
Touchstone Pictures:
Hollywood Pictures:
Direct-To-Video Releases in 2000 Included:
Disney Parks Headlines in 2000:
2000 was a relatively quiet year for the various Disney Parks. Both of the domestic parks had year-long celebrations, but they saw less change than past years. Here is a brief rundown.
Disneyland Headlines:
In 2000, Disneyland celebrated its 45th anniversary. It held a number of special events throughout the year and a TV special "Disneyland 2000: 45 Years of Magic" aired in February.
Other notable events at Disneyland in 2000 included:
The infamous Rocket Rods, which briefly replaced Disneyland's Peoplemover, closed for a refurbishment. It never reopened and the former Peoplemover/Rocket Rods tracks remain abandoned to this day.
The two Autopia tracks were combined into one Chevron-sponsored Autopia ride.
Disney World Headlines:
In 2000, Walt Disney World celebrate the Millennium with a number of special events, parades and refurbishments. Epcot was a focal point of a number of these special activities.
Also in 2000, the Magic Carpets of Aladdin opens as does the revamped area around it in Adventureland in the Magic Kingdom.
Here is a complete rundown of every ride, attraction, restaurant and shop at the Magic Kingdom over the years.
Elsewhere in 2000, the Disney Ambassador Hotel opened at Tokyo Disneyland.
Disney Television Headlines in 2000:
A number of new Disney television shows and original movies made their debut in 2000. These included:
That's all for 2000. Stay tuned for in-depth looks at additional years in the very near future!