Here is everything you need to know about the amazing Disney movie The Little Mermaid II: Return to the Sea  including casting, reviews, fun facts and more. I hope you find this listing informative and helpful!
Description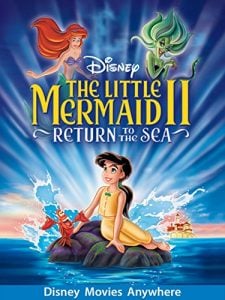 "The Little Mermaid II: Return to the Sea" is a direct-to-video animated film released by Walt Disney Pictures in 2000. It is the sequel to Disney's classic animated film "The Little Mermaid" and continues the story of Ariel, the mermaid princess.
The film is set several years after the events of the original movie. Ariel and Prince Eric now have a daughter named Melody, who is a young and adventurous princess. However, due to the dangers of her heritage as both a human and a mermaid, Ariel decides to keep Melody away from the sea and her mermaid roots.
Despite Ariel's efforts, Melody becomes increasingly curious about her past and her family's connection to the ocean. When she discovers a locket with a picture of a mermaid inside, she learns about her true identity and becomes determined to explore the sea and meet her mermaid relatives.
Unaware of her mother's history, Melody ventures into the ocean where she meets Morgana, Ursula's vengeful sister, who plans to use her to get revenge on Ariel and King Triton. As Melody becomes trapped in Morgana's scheme, Ariel must confront her past and return to the sea to save her daughter and reunite her family.
"The Little Mermaid II: Return to the Sea" features enchanting animation, new original songs, and heartwarming characters that will captivate audiences of all ages. It explores themes of identity, family, and the importance of staying true to oneself. While paying homage to the original film, the sequel introduces new adventures and challenges for Ariel and her daughter, adding depth to their relationship and the underwater world of Atlantica.
---
Crew:
Director: Jim Kammerud
Producers: Leslie Hough and David Lovegren
Music: Danny Troob
---
Additional Details
---
The Little Mermaid II: Return to the Sea  Trailer:
---