Here is everything you need to know about Walt Disney World's Magic Kingdom's The Magic Carpets of Aladdin ride including history, fun facts, photos and more. I hope you find this listing informative and helpful!
Description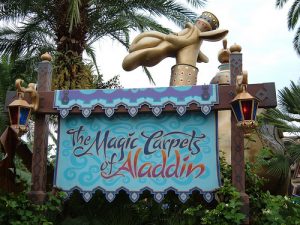 The Magic Carpets of Aladdin is a whimsical and family-friendly attraction located in Adventureland at Magic Kingdom, Walt Disney World Resort, Florida. Inspired by Disney's animated film "Aladdin," the ride takes guests on a magical flying carpet adventure through Agrabah, the fictional city where Aladdin's adventures unfold.
The attraction is set around a central hub, resembling the bustling marketplace of Agrabah. Colorful and intricately designed carpets, each with its own unique pattern, are suspended from above. Each carpet is equipped with a row of seats, providing a comfortable and safe ride experience for guests.
As the ride begins, guests have the opportunity to control their own magic carpet's movements. They can tilt their carpet forward or backward using a lever, allowing them to control the height and angle of their flight. This interactive element adds an element of fun and excitement, as guests can pretend to soar through the skies just like Aladdin and Jasmine did in the movie.
Throughout the ride, the playful Genie from the movie adds his trademark humor and magic, interacting with guests and adding to the enchantment of the experience.
The Magic Carpets of Aladdin is suitable for guests of all ages, making it a popular choice for families and young children. Its vibrant theming and simple yet enjoyable ride mechanics make it a lighthearted and entertaining attraction for everyone.
Located in the heart of Adventureland, the attraction is easily accessible and is a great addition to the overall theme of the area, which is designed to transport guests to far-off lands and exotic adventures.
The Magic Carpets of Aladdin is a delightful and enchanting attraction that allows guests to immerse themselves in the beloved story of "Aladdin" and experience the thrill of flying on a magic carpet. It remains a cherished and popular attraction at Magic Kingdom, bringing smiles and joy to visitors of all ages as they make their magical journey through the Arabian skies.
---
Fun Facts
A number of longtime Adventureland shops were removed in 2000 to widen the concourse where The Magic Carpets of Aladdin was built: Traders of Timbuktu, Tiki Tropic Shop and Zanzibar Shell Company.
The addition of the ride in 2001 was the first time in the Magic Kingdom's 30 years that a new attraction was added to Adventureland.
---
Important Details
Disney Character(s) in this Post:
Aladdin
---