Here is everything you need to know about the amazing Disney series The Mickey Mouse Club including casting, episodes, fun facts and more. I hope you find this listing informative and helpful!
The Mickey Mouse Club Description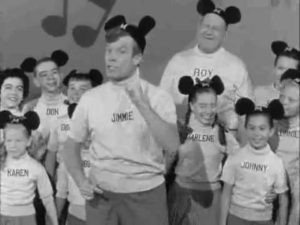 "The Mickey Mouse Club" is a television show that first premiered on ABC in 1955. It was created by Walt Disney and featured a variety of music, comedy, and educational segments aimed at children and families.
The show was structured like a variety show, with different segments featuring singing and dancing, skits and comedy sketches, and educational segments like "The Mouseketeer Roll Call" and "Fun with Music." The show also featured a group of young performers known as the "Mouseketeers," who would sing, dance, and participate in various skits and musical performances.
The original cast of "Mouseketeers" included several well-known child actors, such as Annette Funicello, Bobby Burgess, and Darlene Gillespie, as well as a number of lesser-known child performers. The show quickly became popular with children and families across America, and helped to establish Disney as a dominant force in children's entertainment.
In addition to the music and entertainment segments, "The Mickey Mouse Club" also featured educational segments on subjects like science, history, and foreign cultures. The show aimed to provide wholesome entertainment for children and families, and it remains a beloved part of American popular culture to this day.
---
The Mickey Mouse Club Cast:
Host: Jimmie Dodd
Self: Sharon Baird
Self: Bobby Burgess
Self: Lonnie Burr
Self: Tommy Cole
Self: Annette Funicello
Self: Darlene Gillespie
Self: Cubby O'Brien
Self: Karen Pendleton
Self: Doreen Tracey
---
The Mickey Mouse Club Crew:
Creators: Walt Disney and Hal Adelquist
Producer: Bill Walsh
---
The Mickey Mouse Club Details:
The Mickey Mouse Club Trailer:
---