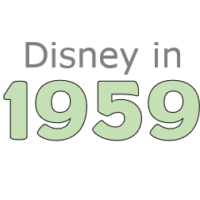 The Walt Disney Company has a rich and lengthy history with decades of amazing movies, shows and park experiences. To commemorate Disney's 100th birthday this year, I am spotlighting the company's history year by year in this new 'Disney by the Years' series.
Here is a quick rundown of everything that happened in the world of Disney in the year 1959. I hope you find this lookback in time helpful and entertaining.
Disney Movies Headlines in 1959:
In 1959, Disney released several movies, including:
As was custom at this time, Disney also re-released a number of classic movies to theaters in 1959:
Disney won three Oscars in 1959- two for the shorts Grand Canyon and Ama Girls and one for the documentary White Wilderness.
Overall, the year saw a decent output of movies quantity-wise, but the quality is through the roof with a few of the company's most beloved animated and live-action feature films making their debut in the year.
Disney Parks Headlines in 1959:
Disneyland Headlines:
Disneyland was 4 years old in 1959 and saw its first decent-sized overhaul during the year. A number of iconic attractions made their debut in 1959 including the Matterhorn Bobsleds, the Disneyland Monorail and the Submarine Voyage.
Other notable changes at Disneyland include:
Disney Television Headlines in 1959:
In 1959, Walt Disney Presents was in its second year of production and was going strong every Sunday night on ABC. A notable episode was the January 30th show titled The Peter Tchaikovsky Story which was the first stereophonic broadcast of a television program in history.
In June, the company aired a live television special titled Disneyland '59 to show off the various new attractions at the park.
Also on TV in 1959 were the live action drama Zorro and the Mickey Mouse Club which would both be canceled this year.
That's all for 1959. Stay tuned for in-depth looks at additional years in the very near future!