Star Wars – Heroes Path Mobile Game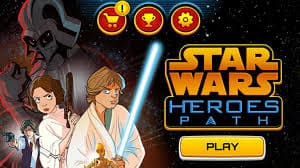 Lead the Rebel Alliance to victory! Guide Luke Skywalker, Han Solo, Princess Leia, Chewbacca, and Obi-Wan Kenobi through perilous puzzles that will rack your brain and test your luck! Use the characters' special abilities as you travel from Tatooine to the Death Star, but watch out—every move can trigger enemy reactions that will change the game and your strategy in an instant! Experience A New Hope in a whole new way as thrilling motion comics keep the story of the classic adventure intertwined with play.
Puzzle and Fight to restore freedom to the galaxy with Star Wars – Heroes Path!
Star Wars – Heroes Pat Video Demo: