The Rescuers (1977 Movie)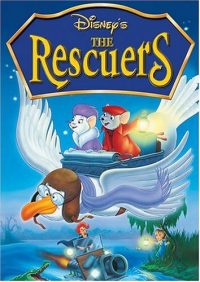 The Rescuers Plot:
After receiving a panicked plea for help from an orphan named Penny, the Rescue Aid Society springs into action. They might be petite, but Bianca and her shy assistant Bernard, have what it takes to solve this case. So they set out on an adventure to free the kidnapped girl from the clutches of the evil Madame Medusa and her brutish alligator henchmen. Together, they will need their wits to get help from the local swamp folk in order to save Penny and keep Madame Medusa from retrieving the diamond in Devil's Eye.
Related Music:
Fun Facts and Statistics:
The movie began in development 15 years before it was released, but was shelved for a period of time along the way.

This is the first Disney animated film to have a sequel (The Rescuers Down Under).

When The Rescuers was re-released to theaters in 1983, it was paired with Mickey's Christmas Carol.

Disney once had to recall a home video release of The Rescuers because it contained an image of a naked woman in a couple of the film's frames.
Disney Character(s) in this Post:
Bernard (The Rescuers)