Here is everything you need to know about Walt Disney World's Magic Kingdom's extinct Disney's River Country park including history, fun facts, photos and more. I hope you find this listing informative and helpful!
Description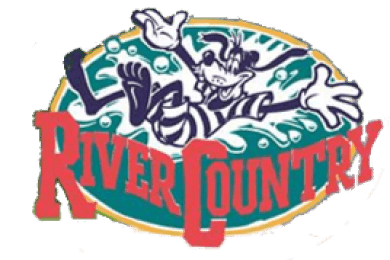 Disney's River Country was a pioneering water park located at Walt Disney World Resort in Florida. It opened on June 20, 1976, and was the first water park at the resort. The park was situated near Disney's Fort Wilderness Resort & Campground and was built around Bay Lake, which served as the park's central attraction.
River Country was designed to evoke a rustic, old-fashioned swimming hole atmosphere. It featured a sandy-bottom lake with filtered water from Bay Lake, various water slides, a lazy river, and a pool complex. One of the park's most iconic attractions was the "Upstream Plunge," a unique water slide where guests would shoot up the slide due to the force of the water.
What set River Country apart from other water parks at the time was its use of natural water from Bay Lake. The park's filtration system combined with natural sand filtration allowed for a more eco-friendly approach to water park operation. River Country was also known for its storytelling and theming, with lifeguards dressed in period costumes and a rustic log cabin ambiance.
Despite its popularity and unique features, River Country faced challenges throughout its existence. One of the primary concerns was the water quality in Bay Lake, which posed potential health risks for guests. Additionally, competition from other newer and larger water parks in the Orlando area put pressure on River Country's attendance.
In 2001, River Country was temporarily closed for its usual seasonal shutdown, but it never reopened to the public. Disney officially announced the permanent closure of the water park in 2005. The decision to close River Country was due to a combination of factors, including declining attendance, the rising cost of maintaining and updating the aging facilities, and concerns about the park's reliance on natural water sources.
After the closure, River Country remained abandoned for many years, and its attractions fell into disrepair. Disney considered various redevelopment plans for the site but ultimately decided to repurpose the land for other projects. In 2018, it was announced that the land previously occupied by River Country would be used for a new resort called Reflections – A Disney Lakeside Lodge. However, in 2020, Disney announced that the construction of the resort was canceled, and the future use of the land is yet to be determined.
Although River Country is no longer operational, it remains a nostalgic and fondly remembered part of Disney World's history. It holds a special place in the hearts of those who experienced its unique attractions and the sense of adventure it provided. As the first water park at Disney World, River Country's legacy lives on in the subsequent water parks at the resort, including Disney's Blizzard Beach and Disney's Typhoon Lagoon.
---
Important Details
Experience:
---
---