Here is everything you need to know about Walt Disney World's Magic Kingdom's Frontierland Shootin' Arcade attraction including history, fun facts, photos and more. I hope you find this listing informative and helpful!
Description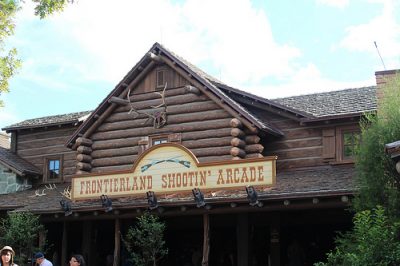 The Frontierland Shootin' Arcade is an interactive attraction located in Frontierland at Magic Kingdom park at Walt Disney World Resort in Florida. The attraction allows guests to step back in time and experience the spirit of the Old West by participating in a shooting gallery-style game.
The Frontierland Shootin' Arcade is a classic arcade-style game, where guests use realistic-looking replica rifles to shoot at a variety of targets set up throughout a themed shooting gallery. The targets typically include items like lanterns, barrels, bottles, and other objects that fit the Wild West theme.
As guests take aim and fire, the gallery comes to life with sound effects and animations, adding to the immersive experience. The shooting gallery is designed to resemble an authentic frontier town, complete with Western facades, wooden walkways, and other period-appropriate elements.
Each time guests hit a target, they score points, and the more accurate and swift they are, the higher their score will be. It's a fun and challenging activity that allows guests to test their shooting skills in a safe and entertaining environment.
---
Fun Facts
There are 97 targets in the gallery.
Participants shot actual lead pellets at gallery targets until the guns were swapped out in 1982 for infra-red light rifles.
---
Important Details
---