Here is everything you need to know about the amazing Jungle Navigation Co. Ltd. Skipper Canteen restaurant at Walt Disney World's Magic Kingdom including history, reviews, fun facts, photos and more. I hope you find this listing informative and helpful!
Jungle Navigation Co. Ltd. Skipper Canteen | Disney World Description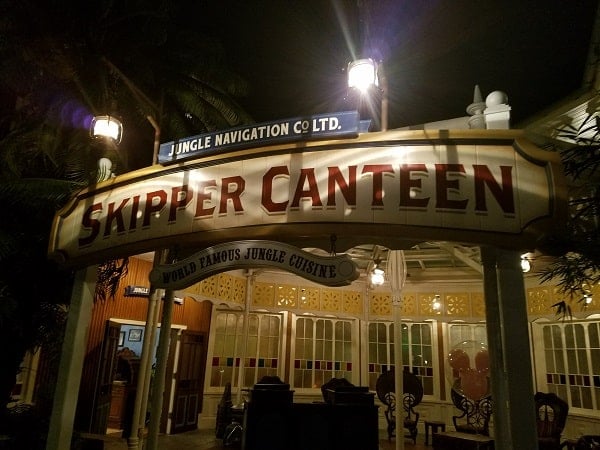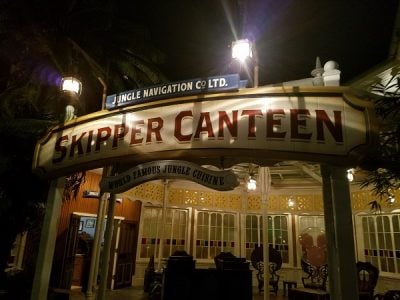 Hungry for adventure? Savor the tropical cuisine of Jungle Navigation Co. Ltd. Skipper Canteen at the Magic Kingdom.
Explore the bold, flavorful cuisine of Asia, South America, and Africa with the help of our daring riverboat pilots.
Because we welcome intrepid adventurers whose travel plans change quickly, reservations are accepted on a same-day basis only. Or, you can trek in during operating hours to see if there's a table available.
Dr. Falls, I Presume?
Immerse yourself in the legacy of the Jungle Cruise! The same skippers who guided your steamer down the Nile, Amazon and Congo Rivers have opened the doors and kitchens of their tropical headquarters to fellow adventurers and famished families like your own!
Delight your big and little explorers with premium table-service dining in 3 curiously quirky rooms: the crew's colonial-era Mess Hall (which is not messy at all, thank you very much); the Jungle Room, former family parlor of Dr. Albert Falls himself; and the S.E.A. Room—a once-secret meeting place for the Society of Explorers and Adventurers!
World-Famous Jungle Cuisine
Prepare your palate for exotic flavor adventures sure to tame your wildest appetite—and pickiest eaters!
Begin your culinary cruise with house-made arepas, an Amazon-inspired appetizer made with ground maiz, slow-cooked beef, black beans, fried plantain slices and queso fresco. For your main dish, feast on Dr. Falls' Signature Steak—grilled strip loin steak marinated in sofrito and served with yuca sticks, avocado salsa and chimichurri. For a lighter touch, try Trader Sam's Head-On Shrimp, a Trader Sam favorite featuring sustainable, local farm-raised shrimp tossed in a chili-garlic sweet sauce and served with Chinese broccoli and rice.
End your lunch or dinner with sweet memories of Bertha's Banh Bong Lan with mango-lime sorbet, a Vietnamese chiffon sponge cake soaked with lemongrass-ginger syrup, or Quicksand!!! Jasmine Rice Pudding—featuring mango sauce, lemon curd hibiscus meringue and pineapple.
---
Jungle Navigation Co. Ltd. Skipper Canteen | Disney World Fun Facts
---
Jungle Navigation Co. Ltd. Skipper Canteen | Disney World Details
---
Jungle Navigation Co. Ltd. Skipper Canteen | Disney World Reviews
---
---