Here is everything you need to know about Walt Disney World's Epcot's Leave A Legacy attraction including history, fun facts, photos and more. I hope you find this listing informative and helpful!
Description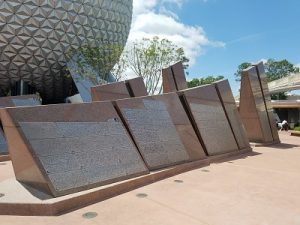 At Leave A Legacy, view a special program where Guests' likenesses were etched on steel tiles to commemorate their visit to Epcot.
Ever notice those plaques out front of Epcot? Look closer and you'll see names and faces of Guests from around the globe.
The program, launched during our Millennium Celebration in the fall of 1999, gave Guests the opportunity to leave a little piece of themselves at one of their favorite places. Photo-capture stations took their digital images, which were then etched onto steel tiles and mounted on one of 30 granite megaliths in the Leave a Legacy Plaza. The megaliths range in height from 3 to 19 feet, and the heaviest one weighs more than 50,000 pounds!
Veteran Imagineer John Hench (1908 – 2004), an artist with The Walt Disney Company since 1939, designed the plaza as well as Spaceship Earth. He was also the original art director of Epcot itself and helped design and build Disneyland before that. (source)
Please note that Leave a Legacy was removed from Epcot's main entrance in the Summer of 2019 and is slated to be relocated. Be sure to stay tuned to find out more about the new home of the attraction as more details are released.
---
Important Details
---