Here is everything you need to know about Memento Mori at Walt Disney World's Magic Kingdom including history, reviews, fun facts, photos and more. I hope you find this listing informative and helpful!
Description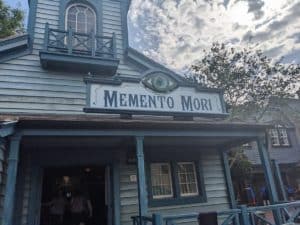 Memento Mori is a fascinating and unique shop located in Liberty Square at Magic Kingdom Park in Walt Disney World Resort, Florida. The name "Memento Mori" is Latin for "Remember you must die," which ties into the shop's theme and offers a playful nod to the spooky and hauntingly delightful atmosphere it embraces.
The shop is inspired by the Haunted Mansion attraction, one of Disney's beloved classic rides known for its ghostly encounters and eerie ambiance. Memento Mori serves as an extension of the Haunted Mansion experience, allowing guests to take home a piece of the chilling charm.
Inside Memento Mori, guests are immersed in a world of macabre and otherworldly treasures. The shop's decor is adorned with ghostly portraits, vintage-style artifacts, and eerie curiosities, all of which pay tribute to the ghostly residents of the Haunted Mansion.
The main focus of Memento Mori is offering a unique assortment of Haunted Mansion-themed merchandise. Guests can find a wide range of items, including clothing, accessories, home decor, collectibles, and souvenirs featuring iconic characters from the attraction, such as the Hitchhiking Ghosts and the infamous Hatbox Ghost.
One of the most popular offerings at Memento Mori is the "Spirit Photography" service, where guests can have their pictures taken in a manner reminiscent of the classic ghostly portraits found in the Haunted Mansion. These special photos create the illusion of spectral visitors appearing alongside guests, adding an extra touch of spooky fun to their visit.
---
Important Details
---