Here is everything you need to know about Walt Disney World's Epcot's Mission SPACE ride including history, fun facts, photos and more. I hope you find this listing informative and helpful!
Mission SPACE Description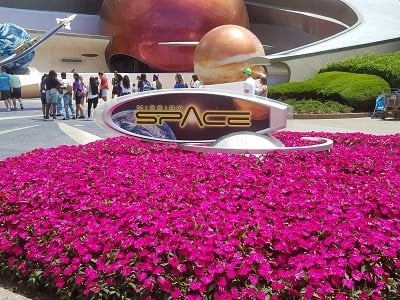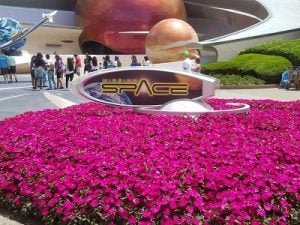 On Epcot's Mission SPACE ride, experience authentic NASA-style training and an out-of-this-world space launch on this shuttle simulator.
Fulfill your fantasy of being an astronaut as you dodge meteors, navigate nebulae and slingshot around the moon.
Your journey to Mars begins at Planetary Plaza, where you'll find inspirational quotes from pioneers of space travel.
From there, make your way to the Simulation Lab, which houses a 35-foot-tall gravity wheel like the kind NASA uses to simulate gravity in deep space. A genuine NASA Lunar Roving Vehicle (LRV), one of only 4 in existence, is also on display, on loan from the Smithsonian. Then pass by the Command Room, a glass bullpen where ISTC mission-control personnel are hard at work, manning their control panels.
Before you board, actor Gary Sinise briefs you as you prepare for your mission to Mars on the X-2 Deep Space Shuttle at the International Space Training Center (ISTC). Each member of your 4-cadet crew will assume an important role: navigator, pilot, commander or engineer. During your flight, each cadet will be instructed to initiate a mission-critical sequence, so be prepared!
Board your vessel, lower your harness and brace yourself for the incredible force of lift-off. Get goose bumps as you arc around the moon and then hold on tight as you attempt a precarious precision landing on the Red Planet's alien surface.
Your crew is counting on you to do your part to ensure a successful mission and a safe trip back to Earth!
---
Mission SPACE Fun Facts
It is estimated the the ride cost $100 million.
Rides of Mission SPACE experience G-force of 2.5g.
There are a number of tributes to the popular Horizons (the ride Mission SPACE replaced) throughout the ride.
---
Mission SPACE Details
Disney Resort: Walt Disney World Resort
Disney Park: Epcot
Attraction Type: Ride
Year Opened: 2003
Replaced: Horizons
---
---