Here is everything you need to know about the Star Traders shop at Walt Disney World's Magic Kingdom including history, reviews, fun facts, photos and more. I hope you find this listing informative and helpful!
Description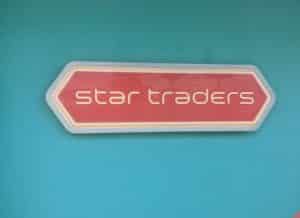 Star Traders is a retail store located in Tomorrowland at Magic Kingdom, the Walt Disney World Resort in Florida. The store specializes in merchandise related to science fiction, particularly the "Star Wars" franchise.
The store offers a wide range of merchandise, including clothing, accessories, toys, and souvenirs that are inspired by "Star Wars" and other science-fiction themed attractions. Guests can find items such as lightsabers, t-shirts, hats, pins, and model spaceships. The store also has a selection of "Star Wars" collectibles, including limited edition items and rare merchandise.
The Star Traders store is designed to resemble a futuristic space station, with themed props and decorations that make guests feel like they are shopping in a sci-fi movie set. It is located near the entrance of "Space Mountain" and is a popular destination for guests who love science fiction or are looking for unique "Star Wars" souvenirs to take home from their visit to Magic Kingdom.
Star Traders is open during regular park hours and is a great place to shop for "Star Wars" themed merchandise or to immerse oneself in the world of science fiction.
---
Important Details
---