Here is everything you need to know about Walt Disney World's Epcot's The American Adventure show including history, fun facts, photos and more. I hope you find this listing informative and helpful!
The American Adventure Description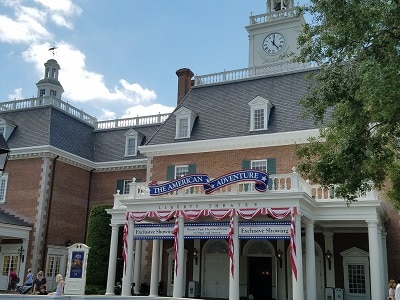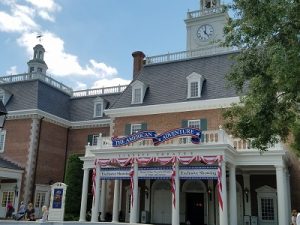 Audio-Animatronics, film and music bring America's past to life during this 30-minute show at the American Adventure Pavilion.
Benjamin Franklin and Mark Twain are your guides on this inspiring journey through our young nation's short, but storied history. Join them atop the Statue of Liberty's torch as they salute America's greatest resource: its people.
Take your seat in a stately theater featuring elegant Corinthian-style chandeliers, archways and columns and watch America's story unfold. In this dramatic retelling enhanced with 35 Audio-Animatronics figures, rear-projection film footage and stirringly patriotic songs, experience the pioneering can-do spirit that propelled this country to greatness.
Twelve faux marble statues, 6 on either side of the 72-foot screen, embody the American ideals of Individualism, Innovation, Independence, Self-Reliance and more. Watch and see how these ideals precipitated key events like the landing of the Mayflower, the Boston Tea Party, the winter at Valley Forge, the penning of the Declaration of Independence, the Civil War, industrialization and the Great Depression. Along the way, you'll also meet such luminaries as:
Susan B. Anthony
Alexander Graham Bell
Chief Joseph
Frederick Douglass
Thomas Jefferson
John F. Kennedy
Martin Luther King Jr.
Will Rogers
Teddy Roosevelt
Related Music:
---
The American Adventure Fun Facts
The theater building uses force perspective to make a 5 story building look like it is only 2.5 stories.
Length of the American Adventure show: 28 and a half minutes.
The theater holds 1024 people
---
The American Adventure Details
Disney Resort: Walt Disney World Resort
Disney Park: Epcot
Park Area: Epcot American Pavilion
Attraction Type: Show
Year Opened: 1982
Replaced: Original Attraction
---
---