Here is everything you need to know about Walt Disney World's Epcot's The American Adventure show including history, fun facts, photos and more. I hope you find this listing informative and helpful!
The American Adventure | Disney World Description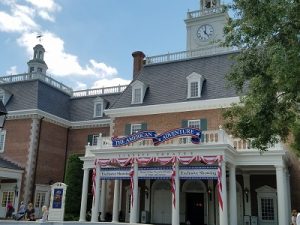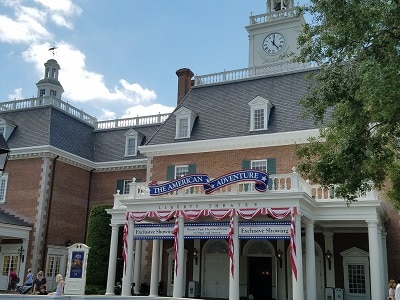 The American Adventure is an iconic and patriotic attraction located in the World Showcase at Epcot, Walt Disney World Resort, Florida. This impressive show takes guests on a captivating journey through key moments in American history, celebrating the spirit and diversity of the United States.
Situated within the beautiful Colonial-inspired building, the attraction combines state-of-the-art audio-animatronics, film, and stunning theatrical effects to bring history to life. The show is hosted by two audio-animatronic characters, Benjamin Franklin and Mark Twain, who guide guests through a moving and inspirational retelling of American history.
The main feature of The American Adventure is a large theater with a massive screen, where a 35-minute multimedia presentation unfolds. The show uses a combination of film clips, stirring music, and narration to depict pivotal events and figures from America's past, including the signing of the Declaration of Independence, the Civil War, the Great Depression, and the Civil Rights Movement.
The American Adventure prides itself on presenting a balanced and thought-provoking portrayal of American history, recognizing both the achievements and challenges faced by the nation throughout its development. The show acknowledges the diversity and cultural contributions of various groups, paying tribute to the many individuals who have shaped the American story.
The attraction's grand finale features the inspiring song "Golden Dream," performed by a chorus of diverse voices, underscoring the theme of unity and hope for the future.
The American Adventure stands as a symbol of patriotism and pride, inviting guests to reflect on the shared values and principles that have shaped the nation's identity. It serves as a testament to the enduring spirit of the American people and their continued pursuit of freedom, justice, and progress.
As with all attractions at Walt Disney World, the availability and operation of The American Adventure may be subject to change, so it's always a good idea to check the latest information on the official Disney website or the My Disney Experience app before your visit.
For those seeking an inspiring and educational journey through American history, The American Adventure offers a captivating and moving experience that showcases the nation's past, present, and the collective vision of a bright future.
---
The American Adventure | Disney World Fun Facts
The theater building uses force perspective to make a 5 story building look like it is only 2.5 stories.
Length of the American Adventure show: 28 and a half minutes.
The theater holds 1024 people
---
The American Adventure | Disney World Details
---