Here is everything you need to know about Walt Disney World's Magic Kingdom's The Barnstormer ride including history, fun facts, photos and more. I hope you find this listing informative and helpful!
The Barnstormer | Disney World Description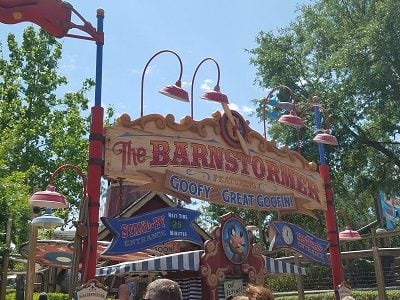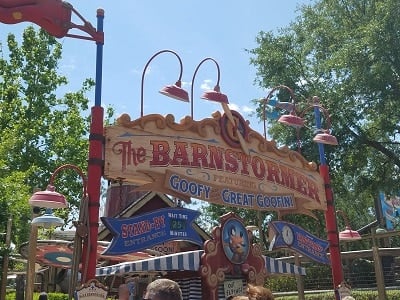 The Barnstormer is a family-friendly roller coaster located in the Magic Kingdom at Walt Disney World Resort, Florida. This charming attraction is part of the Storybook Circus area, which pays homage to classic circus themes and characters.
Inspired by the daring stunt pilots of the 1920s, The Barnstormer takes guests on a whimsical aerial adventure with the Great Goofini, a comical and adventurous character. The ride begins as guests board colorful airplanes, designed to resemble the biplanes of the golden age of aviation.
As the ride launches, guests experience mild twists, turns, and dips, providing just the right amount of excitement for younger visitors and families with children. The smooth and gentle nature of the roller coaster makes it a perfect introduction to coaster experiences for young guests who are beginning to explore thrill rides.
The Barnstormer is relatively short in duration but packs plenty of charm and fun into its ride experience. It's a delightful attraction for families to enjoy together, and the immersive theming of the Storybook Circus area adds to the whimsical atmosphere.
The attraction's playful and lighthearted storyline, combined with the joy of flying through the air, makes The Barnstormer a popular choice for guests of all ages, particularly those seeking a more accessible and less intense coaster experience.
As with all attractions at Walt Disney World, the availability and operation of The Barnstormer may be subject to change, so it's always a good idea to check the latest information on the official Disney website or the My Disney Experience app before your visit.
For those looking for a delightful and enjoyable ride that captures the spirit of adventure and fun, The Barnstormer offers a memorable experience in the enchanting world of Walt Disney's Magic Kingdom.
---
The Barnstormer | Disney World Fun Facts
The ride has actually had two iterations over the years. The first version, titled 'The Barnstormer at Goofy's Wiseacre Farm,' operated from 1996-2011 and then it became 'The Barnstormer Featuring Goofy as the Great Goofini' when the area was reopened as Storybook Circus.
---
The Barnstormer | Disney World Details
Disney Character(s) in this Post:
Goofy
---