Here is everything you need to know about the amazing Tony's Town Square Restaurant at Walt Disney World's Magic Kingdom including history, reviews, fun facts, photos and more. I hope you find this listing informative and helpful!
Description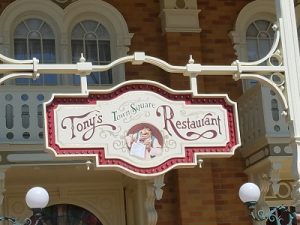 Tony's Town Square Restaurant is a delightful dining establishment located at Magic Kingdom, Walt Disney World Resort in Florida. Inspired by the classic Disney film "Lady and the Tramp," the restaurant brings to life the charming Italian atmosphere of the movie, offering guests a taste of old-world hospitality and delectable cuisine.
As guests step inside Tony's Town Square Restaurant, they are welcomed by a warm and inviting ambiance, reminiscent of a classic Italian trattoria. The décor features elegant chandeliers, vintage posters, and classic movie memorabilia from "Lady and the Tramp," creating an immersive dining experience for Disney fans of all ages.
The menu at Tony's Town Square celebrates traditional Italian flavors, featuring a variety of pasta dishes, hearty entrees, and delectable desserts. Guests can indulge in classic Italian favorites such as spaghetti and meatballs, chicken parmigiana, and shrimp scampi, all prepared with a touch of Disney magic and culinary expertise.
One of the restaurant's highlights is its picturesque outdoor patio, offering a serene and charming setting for al fresco dining. Guests can enjoy their meals while watching the bustling activity of Main Street, U.S.A., and even catch a glimpse of parades and other entertainment that pass by.
Tony's Town Square is not only a place to savor delicious meals but also a perfect spot to meet some favorite Disney characters. Throughout the day, guests may have the opportunity to encounter beloved characters from "Lady and the Tramp" and other Disney classics, making the dining experience even more memorable for families and Disney enthusiasts.
With its captivating ambiance, delightful Italian cuisine, and occasional character encounters, Tony's Town Square Restaurant offers a wonderful dining experience that captures the essence of Disney storytelling and hospitality. It is an ideal choice for families seeking a relaxing and enchanting meal in the heart of the magic at Magic Kingdom.
---
Fun Facts
This location dates back to 1971 when the Town Square Cafe opened with Magic Kingdom. It was also called Tony's Town Square Café from 1981-1989.
The location was originally slotted for a restaurant called Coffee Mill Restaurant.
The original restaurant was sponsored by Oscar Meyer from 1971-1981 and their mascot, Little Oscar, was on hand to meet guests.
The restaurant's façade is based on the Hotel Saratoga in New York.
---
Important Details
---
Reviews
---