Here is everything you need to know about the amazing Tony's Town Square Restaurant at Walt Disney World's Magic Kingdom including history, reviews, fun facts, photos and more. I hope you find this listing informative and helpful!
Tony's Town Square Restaurant Description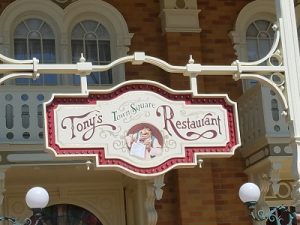 At the Magic Kingdom's Tony's Town Square Restaurant, share spaghetti and meatballs and more at this fun eatery near the entrance of Magic Kingdom park.
Step inside this charming turn-of-the-century trattoria on Main Street, U.S.A., with its whitewashed balustrades, French doors and expansive front porch, which offers a fantastic view of evening parades. Take in the classic 1955 film Lady and the Tramp playing in the lobby and pictures of the 2 pooches gracing the wall.
Hopeless romantics are bound to gush over the central fountain depicting the cute canine couple, and more characters and scenes from the movie get you in the mood for food, friends, fun times and perhaps even amore!
Reservations are recommended and can be made up to 180 days prior to your visit.
---
Tony's Town Square Restaurant Fun Facts
This location dates back to 1971 when the Town Square Cafe opened with Magic Kingdom. It was also called Tony's Town Square Café from 1981-1989.
The location was originally slotted for a restaurant called Coffee Mill Restaurant.
The original restaurant was sponsored by Oscar Meyer from 1971-1981 and their mascot, Little Oscar, was on hand to meet guests.
The restaurant's façade is based on the Hotel Saratoga in New York.
---
Tony's Town Square Restaurant Details
---
Tony's Town Square Restaurant Reviews
---
---