Here is everything you need to know about the amazing Disney movie Lady And The Tramp including casting, reviews, fun facts and more. I hope you find this listing informative and helpful!
Lady And The Tramp Description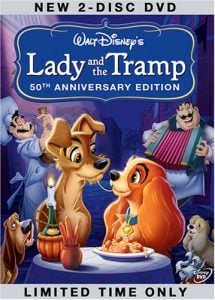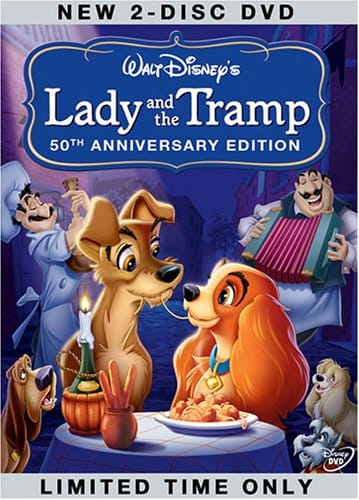 "Lady and the Tramp" is a classic animated film released by Walt Disney Productions in 1955. It is the 15th animated feature film in the Disney animated canon and was directed by Clyde Geronimi, Wilfred Jackson, and Hamilton Luske.
The story revolves around Lady, a refined and pampered Cocker Spaniel belonging to a loving upper-middle-class family, and Tramp, a street-smart and carefree mongrel. Lady lives a comfortable life with her owners, Jim Dear and Darling, until the arrival of their newborn baby. Feeling neglected and misunderstood, Lady becomes anxious and unsure about her place in the family.
One day, Lady meets Tramp, who introduces her to the joys of freedom and life on the streets. Tramp shows her a different perspective on life and helps her embrace her adventurous side. As they spend more time together, Lady and Tramp form a special bond and fall in love.
The heartwarming and romantic tale follows Lady and Tramp as they navigate various challenges, including run-ins with dog catchers and encounters with other memorable characters, such as the beaver Jock and the bloodhound Trusty. Along the way, they share unforgettable experiences and learn valuable lessons about love, loyalty, and the importance of home and family.
"Lady and the Tramp" is known for its iconic scenes, including the romantic spaghetti dinner at Tony's Italian restaurant, accompanied by the song "Bella Notte." The film's animation, story, and memorable characters have made it a beloved classic that has stood the test of time.
Over the years, "Lady and the Tramp" has been re-released theatrically and has also inspired a live-action adaptation released on Disney's streaming platform, Disney+. The original animated film remains a favorite among Disney fans of all ages, exemplifying the timeless magic and charm that Disney movies are known for.
---
Lady And The Tramp Fun Facts
This movie was based on the book Happy Dan, The Whistling Dog by Ward Greene.
Disney Legend Mary Blair (Its a Small World Ride, The Grand Canyon Concourse mural at the Contemporary) was originally supposed to be the background artist for Lady and the Tramp, but the job ultimately went to Claude Coats, who was also a big Disney Parks influence.
This was the first Disney movie animated in CinemaScope.
Lady and the Tramp has been re-released to theaters 4 times after its initial run.
---
Lady And The Tramp Cast:
Barbara Luddy: Lady
Larry Roberts: Tramp
Bill Thompson: Jock
Bill Baucom: Trusty
Verna Felton: Aunt Sarah
George Givot: Tony
Lee Millar: Jim Dear
Peggy Lee: Darling
Stan Freberg: the beaver
Alan Reed: Boris
Mel Blanc: the Stray Dogs
Thurl Ravenscroft: Al the alligator
Dallas McKennon: Toughy
The Mellomen: Dog Chorus
---
Lady And The Tramp Crew:
Directors: Clyde Geronimi, Wilfred Jackson and Hamilton Luske
Producer: Walt Disney
Music: Oliver Wallace
---
Lady And The Tramp Details
Lady And The Tramp Trailer:
---