Here is everything you need to know about the amazing Disney movie Brother Bear including casting, reviews, fun facts and more. I hope you find this listing informative and helpful!
Description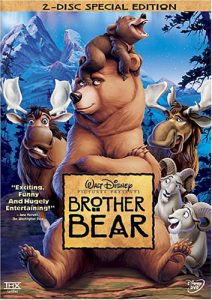 "Brother Bear" is a 2003 animated film produced by Walt Disney Animation Studios. The movie tells the heartwarming and adventurous story of a young Native American man named Kenai, who transforms into a bear and embarks on a journey of self-discovery and understanding.
The film is set in the Pacific Northwest and follows Kenai, a young Inuit hunter who is about to receive his totem, a symbol that represents the animal spirit that will guide him through life. However, when a bear kills his older brother Sitka, Kenai becomes filled with anger and revenge. In his quest for vengeance, he tracks down and kills the bear, only to be transformed into one himself by the spirits of the mountains as punishment for his actions.
As a bear, Kenai must navigate the wilderness and face the challenges of being in a different form. Along the way, he meets a young bear cub named Koda, who becomes his guide and companion. Through their journey together, Kenai learns about the true meaning of brotherhood and discovers the interconnectedness of all living creatures.
"Brother Bear" explores themes of brotherhood, forgiveness, and the importance of understanding and respecting nature and all its inhabitants. The film is known for its beautiful animation, touching story, and memorable characters. It features an impressive voice cast, including Joaquin Phoenix as Kenai, Jeremy Suarez as Koda, Rick Moranis, Dave Thomas, and Jason Raize.
The movie received critical acclaim for its emotional storytelling and stunning visuals. It was also nominated for an Academy Award for Best Animated Feature. "Brother Bear" remains a beloved Disney classic, cherished by audiences of all ages for its touching tale of transformation, friendship, and the value of empathy and compassion.
---
Cast:
Joaquin Phoenix: Kenai
Jeremy Suarez: Koda
Rick Moranis: Rutt
Dave Thomas: Tuke
Jason Raize: Denahi
D.B. Sweeney: Sitka
Joan Copeland: Tanana
Michael Clarke Duncan: Tug
Greg Proops: Male Lover Bear
Pauley Perrette: Female Lover Bear
Estelle Harris: Old Lady Bear
Bumper Robinson: Chipmunks
Angayuqaq Oscar Kawagley: Inuit Narrator
---
Crew:
Directors: Aaron Blaise and Robert Walker
Producer: Chuck Williams
Music: Phil Collins and Mark Mancina
---
Additional Details
---
Brother Bear Trailer:
---