Here is everything you need to know about the amazing Disney movie Honey I Blew Up The Kid including casting, reviews, fun facts and more. I hope you find this listing informative and helpful!
Description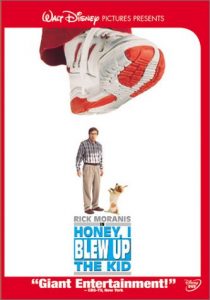 "Honey, I Blew Up the Kid" is a live-action Disney movie released in 1992. It is a sequel to the 1989 film "Honey, I Shrunk the Kids." The film was directed by Randal Kleiser and stars Rick Moranis reprising his role as Wayne Szalinski, the bumbling inventor.
In this installment, Wayne Szalinski is working on another experiment, a growth ray, that is intended to make things larger. However, things go awry when his two-year-old son, Adam, accidentally gets exposed to the ray. As a result, Adam begins to grow rapidly, becoming a gigantic toddler.
As Adam grows, he becomes a challenge for the entire family. Wayne and his wife, Diane, struggle to handle their now enormous son, who continues to grow at an alarming rate. Wayne realizes that he needs to find a way to reverse the effects of the growth ray and shrink Adam back to his normal size.
In the meantime, Adam's growth attracts the attention of the government, who see him as a potential threat. They begin to pursue the Szalinski family, and Wayne must find a way to protect his son and reverse the effects of the ray before it's too late.
Throughout the film, the Szalinski family faces numerous comedic and heartwarming challenges as they try to manage Adam's enormous size and evade the authorities. The movie explores themes of family, love, and the challenges of parenting in an unconventional and humorous way.
"Honey, I Blew Up the Kid" received a mixed reception from critics but was a moderate box office success. It continued the comedic and imaginative spirit of its predecessor, showcasing impressive visual effects to portray the gigantic toddler Adam.
While not as iconic as its predecessor, the film still holds a place in the hearts of Disney fans, especially those who enjoyed the first movie. "Honey, I Blew Up the Kid" remains a fun and entertaining family film that delivers a mix of laughter and adventure, staying true to the Disney spirit of imaginative storytelling.
---
Cast:
Rick Moranis: Wayne Szalinski
Marcia Strassman: Diane Szalinski
Amy O'Neill: Amy Szalinski
Robert Oliveri: Nick Szalinski
Daniel and Joshua Shalikar: Adam Szalinski
John Shea: Dr. Charles Hendrickson
Lloyd Bridges: Clifford Sterling
Keri Russell: Mandy Park
Ron Canada: Marshall Brooks
Gregory Sierra: Terence Wheeler
Michael Milhoan: Captain Ed Myerson
Leslie Neale: Constance Winters
Julia Sweeney: a nosy neighbor
Linda Carlson: another nosy neighbor
---
Crew:
Director: Randal Kleiser
Producers: Dawn Steel and Edward S. Feldman
Music: Bruce Broughton
---
Additional Details
---
Honey I Blew Up The Kid Trailer:
---