Here is everything you need to know about the amazing Disney movie Honey I Shrunk The Kids including casting, reviews, fun facts and more. I hope you find this listing informative and helpful!
Description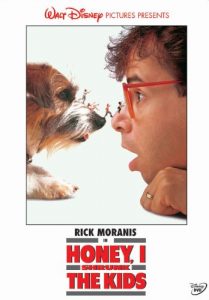 "Honey, I Shrunk the Kids" is a popular live-action Disney movie released in 1989. The film was directed by Joe Johnston and stars Rick Moranis as Wayne Szalinski, an eccentric inventor who accidentally shrinks his children and their two neighbor kids to the size of insects.
The story begins with Wayne working on a top-secret machine in his attic that is meant to shrink objects. Unbeknownst to him, his kids, Amy and Nick, and their neighbors, Russ and Ron, end up in the path of the machine's laser beam and are accidentally shrunk to minuscule size. Wayne, unaware of what happened, sweeps them up with the mess in the attic and throws them out with the trash.
The kids find themselves in the backyard, now a vast and dangerous world, navigating through giant blades of grass, ants, and other insects. They must rely on their ingenuity and teamwork to survive and find a way to get back to normal size.
Meanwhile, Wayne and his wife, Diane, are devastated when they realize what happened to their children. With the help of the neighbors, the kids' parents go on a frantic search to find their missing children.
The adventure takes the kids through various challenges, including battling insects, surviving harsh weather, and facing other unexpected dangers. Along the way, they form a bond and learn important lessons about friendship, courage, and the value of family.
"Honey, I Shrunk the Kids" was a commercial success and became a beloved family film. Its innovative special effects and imaginative storytelling captured the hearts of audiences worldwide. The movie's success led to two sequels, "Honey, I Blew Up the Kid" (1992) and "Honey, We Shrunk Ourselves" (1997), further exploring the adventures of the Szalinski family.
The film remains a classic Disney favorite, cherished by both children and adults alike. Its theme of embracing creativity, family bonds, and the wonders of the world around us continues to resonate with audiences, making it a timeless and enduring part of Disney's filmography.
---
Crew:
Director: Joe Johnston
Producers: Penney Finkelman Cox
Music: James Horner
---
Additional Details
---
Honey I Shrunk The Kids Trailer:
---