Here is everything you need to know about the amazing Disney movie Into The Woods including casting, reviews, fun facts and more. I hope you find this listing informative and helpful!
Into The Woods Description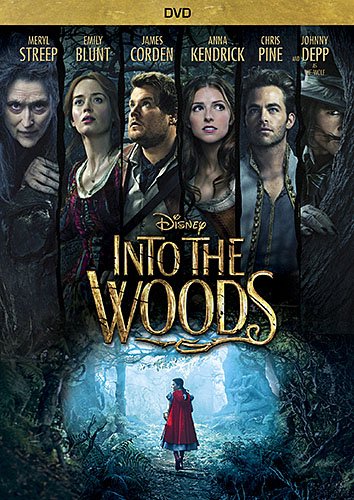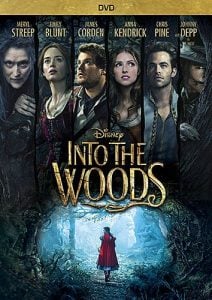 "Into the Woods" is a fantasy musical film released in 2014, directed by Rob Marshall. The movie is based on Stephen Sondheim's Tony Award-winning musical of the same name, which debuted on Broadway in 1987.
The story weaves together several well-known fairy tales, including "Cinderella," "Little Red Riding Hood," "Jack and the Beanstalk," and "Rapunzel," along with an original tale involving a childless baker and his wife.
The plot follows a baker (played by James Corden) and his wife (played by Emily Blunt) who are cursed by a wicked witch (played by Meryl Streep) and are unable to have children. The witch reveals that the curse can be lifted if they retrieve certain magical items before the blue moon in three days. To fulfill their quest, they must venture into the woods, where they encounter characters from various fairy tales.
As they journey through the woods, they encounter Cinderella (played by Anna Kendrick), Little Red Riding Hood (played by Lilla Crawford), Jack (played by Daniel Huttlestone) and his cow, and Rapunzel (played by Mackenzie Mauzy) in the tower. Each character is pursuing their own dreams and desires, but their paths become intertwined as they face the consequences of their actions.
"Into the Woods" explores themes of wishes, consequences, and the consequences of getting what one desires. It delves into the complexities of morality and the idea that "happily ever after" is not always as straightforward as it seems.
The film's stunning production design and visual effects bring the enchanting world of fairy tales to life. The performances by the star-studded cast, particularly Meryl Streep's portrayal of the Witch and Emily Blunt's portrayal of the Baker's Wife, are highly praised.
The musical numbers, with songs like "Children Will Listen" and "Agony," showcase Stephen Sondheim's signature style and thought-provoking lyrics.
"Into the Woods" received positive reviews from critics and was nominated for several awards, including three Academy Awards. It successfully blends the magic and wonder of classic fairy tales with a modern twist and moral complexity, making it an engaging and entertaining experience for audiences of all ages.
Overall, "Into the Woods" is a captivating and whimsical film that reminds viewers of the power of storytelling and the enduring appeal of fairy tales. It serves as a reminder that every action has consequences and that true happiness often lies in unexpected places.
---
Into The Woods Cast:
Meryl Streep: The Witch
Emily Blunt: The Baker's Wife
James Corden: The Baker
Anna Kendrick: Cinderella
Chris Pine: Cinderella's Prince
Tracey Ullman: Jack's Mother
Christine Baranski: Cinderella's Stepmother
Johnny Depp: The Big Bad Wolf
 Lilla Crawford: Little Red Riding Hood
Daniel Huttlestone: Jack
MacKenzie Mauzy: Rapunzel
Billy Magnussen: Rapunzel's Prince
Tammy Blanchard: Florinda
Lucy Punch: Lucinda
Frances de la Tour: the Giant's Wife
Richard Glover: the Steward
Joanna Riding: Cinderella's Mother
Annette Crosbie: Little Red Riding Hood's Grandmother
Simon Russell Beale: the Baker's Father
Tug: Milky-White
---
Into The Woods Crew:
Director: Rob Marshall
Producers: Rob Marshall, John DeLuca, Marc Platt and Callum McDougall
Music: Stephen Sondheim
---
Into The Woods Details
Into The Woods Trailer:
---