Here is everything you need to know about the amazing Disney movie Mary Poppins Returns including casting, reviews, fun facts and more. I hope you find this listing informative and helpful!
Description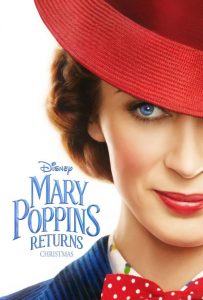 "Mary Poppins Returns" is a musical fantasy film released in 2018, directed by Rob Marshall. The film is a sequel to the classic 1964 movie "Mary Poppins" and is based on the book series by P.L. Travers.
The story is set in London during the Great Depression era, about 25 years after the events of the first film. The Banks family, now grown-up, is facing financial struggles and personal challenges. Michael Banks (played by Ben Whishaw) is a widower with three young children, Annabel (Pixie Davies), John (Nathanael Saleh), and Georgie (Joel Dawson). His sister, Jane Banks (played by Emily Mortimer), is a labor organizer and social activist.
In their time of need, the enigmatic and magical Mary Poppins (played by Emily Blunt) returns to Cherry Tree Lane to once again care for the Banks children. Along with her friend, Jack (played by Lin-Manuel Miranda), a lamplighter and former apprentice of Bert from the original film, Mary Poppins embarks on whimsical and fantastical adventures with the children, taking them on imaginative journeys to rediscover the joy and wonder of childhood.
As Mary Poppins and Jack guide the children through a series of magical escapades, they also help the family cope with their challenges and rediscover the bond that keeps them together. The movie's story is filled with heart, humor, and a sense of nostalgia, paying homage to the original film while introducing new and endearing characters.
"Mary Poppins Returns" features a delightful blend of live-action and hand-drawn animation, reminiscent of the classic Disney films from the past. The film also boasts an enchanting musical score, composed by Marc Shaiman, with lyrics by Scott Wittman and Shaiman, delivering catchy and memorable songs that capture the spirit of the original "Mary Poppins."
Emily Blunt received widespread acclaim for her portrayal of Mary Poppins, staying true to the iconic character while adding her own charm and charisma. The film's cast, including Lin-Manuel Miranda, Ben Whishaw, and Emily Mortimer, also received praise for their performances, contributing to the movie's overall success.
"Mary Poppins Returns" received four Academy Award nominations, including Best Original Song for "The Place Where Lost Things Go." The film was well-received by both audiences and critics for its delightful storytelling, impressive visuals, and heartwarming themes.
Overall, "Mary Poppins Returns" is a delightful and enchanting sequel that captures the magic and spirit of the original film while providing a fresh and nostalgic experience for a new generation of audiences. It stands as a worthy continuation of the beloved "Mary Poppins" legacy and reaffirms the enduring appeal of the magical nanny and her unforgettable adventures.
---
Cast:
Emily Blunt – Mary Poppins
Meryl Streep – Topsy
Ben Whishlaw – Michael Banks
Colin Firth – William Weatherall Wilkins
Dick Van Dyke – Mr Dawes Jr.
Angela Lansbury – Balloon Lady
Lin-Manuel Miranda – Jack
---
Crew:
Director: Rob Marshall
Screenplay: David Magee
---
Additional Details
---
Mary Poppins Returns Trailer:
---