Here is everything you need to know about the amazing Disney movie One Hundred And One Dalmatians including casting, reviews, fun facts and more. I hope you find this listing informative and helpful!
One Hundred And One Dalmatians Description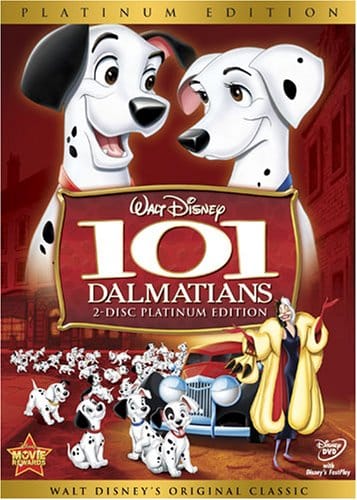 Pongo, Perdita and their super-adorable puppies are in for thrills, hilarious spills and an epic action-packed adventure when they face off with Cruella De Vil, Disney's most fabulously outrageous villainess. When Cruella dognaps all of the Dalmatian puppies in London, brave animal heroes launch a daring plan to save all puppies from Cruella's clutches!
---
One Hundred And One Dalmatians Fun Facts
This was the biggest movie of 1961.
The movie is based on the novel One Hundred And One Dalmatians by Dodie Smith.
The movie was remade into a live action film in 1996.
The movie was re-released to theaters 4 times after its initial run.
---
One Hundred And One Dalmatians Cast:
Rod Taylor: Pongo
Lisa Daniels and Cate Bauer: Perdita
Betty Lou Gerson: Cruella de Vil and Miss Birdwell
Ben Wright: Roger Radcliffe
Lisa Davis: Anita Radcliffe
Frederick Worlock: Horace Baddun and Inspector Graves
J. Pat O'Malley: Jasper Baddun and the Colonel
Martha Wentworth: Nanny, Queenie and Lucy the White Goose
Thurl Ravenscroft: Captain
David Frankham: Sergeant Tibbs
Mimi Gibson: Lucky
Barbara Beaird: Rolly
Mickey Maga: Patch
Sandra Abbott: Penny
Tudor Owen: Old Towser
George Pelling: Danny
Junius Matthews: Scottie
Queenie Leonard: Princess
Marjorie Bennett: Duchess
Barbara Luddy: Rover
Rickie Sorensen: Spotty
Tom Conway: the Collie and the Quizmaster
Paul Frees: Dirty Dawson
---
One Hundred And One Dalmatians Crew:
Directors: Wolfgang Reitheman, Clyde Geronimi and Hamilton Luske
Producer: Walt Disney
Music: George Bruns
---
One Hundred And One Dalmatians Details
One Hundred And One Dalmatians Trailer:
---