Here is everything you need to know about the amazing Disney movie The Cheetah Girls: One World including casting, reviews, fun facts and more. I hope you find this listing informative and helpful!
Description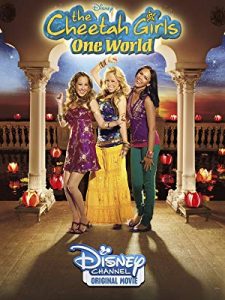 "The Cheetah Girls: One World" is a Disney Channel Original Movie that premiered in 2008. It is the third and final installment in "The Cheetah Girls" film series, based on the book series of the same name by Deborah Gregory. The movie continues the story of four friends who are members of a talented singing group called The Cheetah Girls.
In "One World," the Cheetah Girls are invited to India to star in a Bollywood movie. The group, consisting of Galleria (Raven-Symoné), Chanel (Adrienne Bailon), Aqua (Kiely Williams), and Dorinda (Sabrina Bryan), is excited about the opportunity to experience a new culture and make their mark in the Bollywood industry. However, they soon discover that they will have to compete against each other for the lead role in the movie.
As the girls face challenges and conflicts, they learn the importance of friendship, staying true to themselves, and supporting each other's dreams. Throughout their journey in India, they also explore the rich cultural heritage of the country, learn traditional dance forms, and encounter the vibrant and colorful world of Bollywood.
"The Cheetah Girls: One World" features catchy musical numbers, colorful dance sequences, and heartwarming messages about unity, embracing diversity, and following one's passion. The movie showcases the talents of the lead cast, who not only act but also sing and dance in the film.
The Cheetah Girls franchise became a significant success for Disney Channel, with each film receiving strong viewership and positive feedback from fans. The films also spawned successful soundtracks and merchandise.
"The Cheetah Girls: One World" continues the legacy of the beloved singing group and remains a favorite among fans of Disney Channel Original Movies. It stands as a celebration of friendship, culture, and the pursuit of dreams, making it a fun and empowering movie for young audiences around the world.
---
Crew:
Director: Paul Hoen
Producer: Mitch Engel and Debra Martin Chase
---
Additional Details
Movie Studio: Disney
Year Released: 2008
Type of Movie: Live Action
Movie Platform: Disney Channel Original Movie
---
The Cheetah Girls: One World Trailer:
---