Here is everything you need to know about the amazing Disney movie The Great Mouse Detective including casting, reviews, fun facts and more. I hope you find this listing informative and helpful!
The Great Mouse Detective Description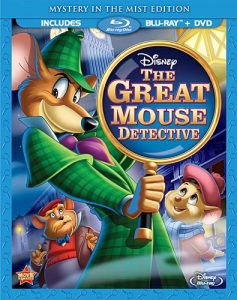 "The Great Mouse Detective" is an animated film released by Walt Disney Pictures in 1986. Directed by Ron Clements, Burny Mattinson, David Michener, and John Musker, the film is based on the children's book series "Basil of Baker Street" by Eve Titus, which is a tribute to Sir Arthur Conan Doyle's famous detective Sherlock Holmes.
Set in Victorian London, the story follows a mouse detective named Basil of Baker Street (voiced by Barrie Ingham), who is modeled after Sherlock Holmes. Basil is a brilliant and eccentric detective who lives in the cellar of 221B Baker Street, right beneath the residence of the human detective Sherlock Holmes.
When a young girl mouse named Olivia Flaversham (voiced by Susanne Pollatschek) seeks Basil's help in finding her kidnapped toymaker father, the great mouse detective takes on the case. The villainous Ratigan (voiced by Vincent Price), a criminal mastermind and Basil's arch-nemesis, is behind the kidnapping, and Basil is determined to stop him.
With the help of his loyal companion, Dr. David Q. Dawson (voiced by Val Bettin), and a host of other colorful characters, including a bumbling Scotland Yard detective named Toby and a feisty female mouse named Miss Kitty (voiced by Melissa Manchester), Basil embarks on a thrilling adventure to rescue Olivia's father and bring Ratigan to justice.
"The Great Mouse Detective" is notable for being one of Disney's first animated films to use computer-generated imagery (CGI) for some of its scenes, enhancing the animation and visual effects. The film received positive reviews from critics, praising its clever storytelling, engaging characters, and catchy musical numbers.
Despite not being a massive box-office success upon its initial release, "The Great Mouse Detective" has gained a dedicated following over the years and is considered a classic in Disney's animated filmography. It showcases the studio's ability to create entertaining and heartwarming stories that appeal to audiences of all ages.
The film's humor, adventure, and endearing characters make it a delightful watch for both children and adults. "The Great Mouse Detective" is a charming and underrated gem in Disney's collection, celebrating the power of wit, intelligence, and friendship in overcoming challenges and achieving justice.
---
The Great Mouse Detective Fun Facts
The movie was based on the Eve Titus book series titled Basil of Baker Street.
In the movie, two of the Thug Guards are played by the longtime voice of Mickey Mouse (Wayne Allwine) and Donald Duck (Tony Anselmo).
---
The Great Mouse Detective Cast:
---
The Great Mouse Detective Crew:
Directors: John Musker, Ron Clements, Dave Michener and Burny Mattinson
Producer: Burny Mattinson
Music: Henry Mancini
---
The Great Mouse Detective Details
The Great Mouse Detective Trailer:
---