Here is everything you need to know about the amazing Pixar movie Wall-E including casting, reviews, fun facts and more. I hope you find this listing informative and helpful!
Wall-E Description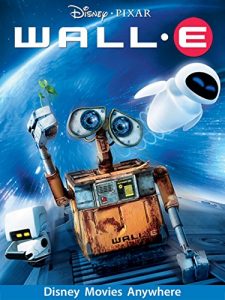 "Wall-E" is a computer-animated science fiction film produced by Pixar Animation Studios and released by Walt Disney Pictures in 2008. The film is directed by Andrew Stanton and is considered one of the most acclaimed and beloved animated movies of all time.
The story is set in the distant future, where Earth has become an uninhabitable wasteland filled with trash and garbage, and humans have evacuated to a massive spaceship called the Axiom. The titular character, Wall-E (Waste Allocation Load Lifter: Earth-class), is a small waste-collecting robot left behind to clean up the planet. Over centuries, he has developed a personality and emotions while performing his solitary task.
One day, Wall-E discovers a small plant growing amidst the waste, and he takes it back to his home. Soon after, a spaceship drops off a sleek, high-tech robot named EVE (Extraterrestrial Vegetation Evaluator) to search for signs of life on Earth. Wall-E falls in love with EVE and shows her the plant. Believing that life has been found on Earth again, EVE takes the plant and returns to the Axiom.
Following her, Wall-E embarks on a thrilling space adventure, which leads to a discovery that could change the fate of humanity and Earth forever. The film delves into themes of environmentalism, consumerism, and the consequences of human negligence on the planet. It also explores love, friendship, and the impact of technology on human interactions.
"Wall-E" is celebrated for its visually stunning animation, creative storytelling, and powerful emotional resonance. The film features minimal dialogue, relying heavily on visual storytelling and gestures to convey the characters' emotions and intentions, making it a unique and poignant cinematic experience.
"Wall-E" received widespread critical acclaim and won the Academy Award for Best Animated Feature. It continues to be praised for its timely message and its ability to entertain and engage audiences of all ages. The film is often regarded as one of Pixar's masterpieces and is considered a classic in the world of animated cinema.
---
Wall-E Fun Facts
The film was directed by Andrew Stanton, who also co-wrote the screenplay and served as a voice actor in the film.
"WALL-E" is known for its minimal dialogue, relying heavily on visual storytelling to convey emotions and messages.
The character of WALL-E, a waste-collecting robot, was inspired by the 1980s "boxy" design aesthetic, such as the Commodore 64 computer and the Apple IIc.
The film takes place in a post-apocalyptic future where Earth has been abandoned by humans due to excessive waste and pollution. It carries environmental and societal messages.
The sound design of the film was created by Academy Award-winning sound designer Ben Burtt, who also created the iconic sounds of R2-D2 from "Star Wars."
WALL-E's name is an acronym that stands for "Waste Allocation Load Lifter – Earth-Class."
The love story between WALL-E and EVE, a sleek robot sent to Earth on a mission, is a central focus of the film, highlighting themes of companionship and connection.
"WALL-E" won the Academy Award for Best Animated Feature, and it was also nominated for Best Original Screenplay and Best Original Score.
The film's closing credits feature the song "Down to Earth" by Peter Gabriel, which was nominated for the Academy Award for Best Original Song.
"WALL-E" received widespread critical acclaim for its storytelling, animation, and thought-provoking themes. It is often praised for its ability to resonate with audiences of all ages.
---
Wall-E Crew:
Director: Andrew Stanton
Producer: Jim Morris
Writers: Andrew Stanton and Jim Reardon
---
Wall-E Details
Wall-E Trailer:
---