Here is everything you need to know about the amazing Disney series Quack Pack including casting, episodes, fun facts and more. I hope you find this listing informative and helpful!
Quack Pack Description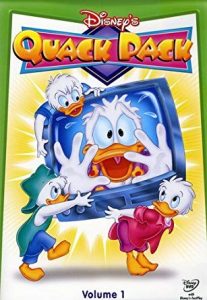 "Quack Pack" is an animated television series that aired on the Disney Afternoon programming block from 1996 to 1997. The show is a spin-off of the classic "DuckTales" series and features Donald Duck and his nephews Huey, Dewey, and Louie in a more contemporary setting.
In "Quack Pack," Donald Duck takes on a new role as a single parent raising his three mischievous and adventurous nephews. The series follows the ducks as they embark on various adventures and tackle everyday challenges, all while navigating modern life in the city. Unlike their previous portrayals, the nephews have distinct personalities and interests, which often lead to humorous and sometimes conflicting situations.
The show introduced a more contemporary and humorous take on the classic Disney characters, with a modern setting and various pop culture references. The nephews are depicted as teenagers with their unique traits, hobbies, and aspirations, adding a fresh twist to the beloved characters.
While "Quack Pack" received a positive reception for its humor and updated approach to the characters, it had a relatively short run and only aired for one season with a total of 39 episodes.
---
Quack Pack Cast:
Jeannie Elias: Huey
Pamela Adlon: Dewey
E.G. Daily: Louie
Tony Anselmo: Donald Duck
Kath Soucie: Daisy Duck
Corey Burton: Ludwig Von Drake
---
Quack Pack Details:
Year of Debut: 1996
Year of Finale: 1997
Type of Series: Animated
TV Channel/Platform: Disney Afternoon
Quack Pack Trailer:
Buy Movie
---