Here is everything you need to know about the amazing Disney series Sing Me a Story with Belle including casting, episodes, fun facts and more. I hope you find this listing informative and helpful!
Sing Me a Story with Belle Description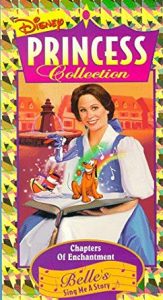 "Sing Me a Story with Belle" is a live-action and animated television series that aired on the Disney Channel from 1995 to 1999. The show is a spin-off of the popular animated film "Beauty and the Beast" and is part of Disney's One Saturday Morning programming block.
In "Sing Me a Story with Belle," Belle (played by Lynsey McLeod) runs a bookshop in the village near the Beast's castle. Each episode begins with Belle inviting a group of children from the village into her bookshop. Belle then selects a book from her collection, and the story comes to life through animation, with Belle and the children transported into the world of the book.
As they explore the animated story, Belle and the children interact with the characters and engage in various adventures related to the book's plot. Throughout the episode, Belle also shares life lessons and values that can be learned from the story.
The show encourages a love for reading and storytelling, promoting the idea that books can transport readers to magical worlds and teach valuable lessons. It also emphasizes the importance of imagination and the joy of sharing stories with others.
In addition to the animated segments, each episode features a musical number performed by Belle and the children. The songs are often related to the theme of the book and serve to further engage young viewers with catchy tunes and lively choreography.
"Sing Me a Story with Belle" is designed to be both entertaining and educational, with a focus on fostering a love of reading and encouraging children to use their imagination.
---
Sing Me a Story with Belle Cast:
Lynsey McLeod: Belle
Tim Goodwin: Brioche
Jacob Chase: Jacob
Kirsten Storms: Kirsten
Shawn Pyfrom: Shawn
Hampton Dixon: 'Little' Hampton
Jennefer Jesse: Jennefer
Natalie Trott: Natalie
Julie Vanlue: Julie
Kerry Anne Bradford
Kristian Truelsen: Uncle Zack
Wolf Bauer: Gaston
Cyndi Vicino: Inez
Mary Kay Bergman: Fifi, Hansel & Gretel, Elf, Witch
Christine Cavanaugh: Carol the Book Worm
Jeff Conover: Harmony the Cat
Jim Cummings: Big Book, Lewis the Book Worm
Wayne Allwine: Mickey Mouse
Tony Anselmo: Donald Duck
Bill Farmer: Goofy, Pluto
Russi Taylor: Minnie Mouse
Maurice LaMarche: Mortimer Mouse
Tress MacNeille: Lambs
---
Sing Me a Story with Belle Details:
Sing Me a Story with Belle Trailer:
Buy Movie
---