Admiral Ackbar
Last Updated on: February 14th, 2023
Who is Admiral Ackbar?
Admiral Ackbar is a fictional character from the Star Wars franchise. He is a military commander and leader of the Rebel Alliance who first appeared in the 1983 film "Return of the Jedi." He is a Mon Calamari, a species of fish-like humanoids, and known for his distinctive appearance, with large eyes and a head shaped like a fish. He is a skilled and experienced military leader, and is known for his catchphrase "It's a trap!" which he utters during a critical moment of the Battle of Endor in "Return of the Jedi" He later appears in the sequel trilogy films "The Force Awakens" and "The Last Jedi" and in the Star Wars expanded universe media. The character was voiced by Erik Bauersfeld.
The Collection:
Here is the Internet's largest collection of Admiral Ackbar related movies, TV shows, toys and other products. As always, new pieces are added to this collection regularly.
---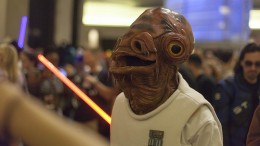 Erik Bauersfeld, who voiced everybody's favorite Mon Calamari rebel commander, Admiral Ackbar, in both Return of the Jedi and last year's The Force Awakens, died yesterday at the age of 93.
---