Here is everything you need to know about the amazing Disney series LEGO Star Wars: All-Stars including casting, episodes, fun facts and more. I hope you find this listing informative and helpful!
LEGO Star Wars: All-Stars Description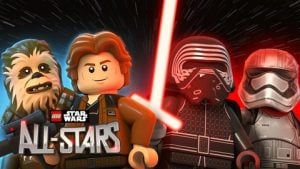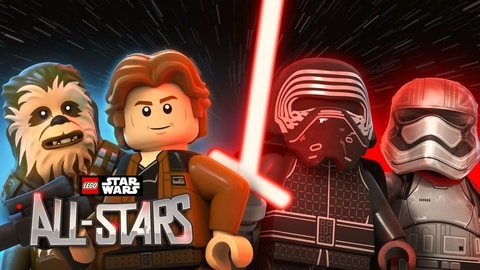 "LEGO Star Wars: All-Stars" is an animated television miniseries that aired on Disney Channel in 2018. It is part of the popular LEGO Star Wars franchise, which combines the iconic characters and settings from the Star Wars universe with the humor and creativity of LEGO.
The miniseries consists of eight episodes, each with a runtime of approximately 11 minutes. "LEGO Star Wars: All-Stars" features a mix of new and familiar characters from the Star Wars saga, all depicted in LEGO form.
The series is an anthology, with each episode telling a standalone story that centers around different characters and scenarios within the Star Wars universe. The episodes cover various eras and events, showcasing characters from the prequel trilogy, original trilogy, sequel trilogy, and other Star Wars media.
"LEGO Star Wars: All-Stars" blends action, humor, and adventure, providing a lighthearted and fun experience for Star Wars fans of all ages. The series pays homage to the epic space opera while adding a unique LEGO twist to iconic moments and characters from the franchise.
Throughout the miniseries, viewers can expect to see beloved characters like Han Solo, Chewbacca, Rey, Kylo Ren, Darth Vader, and more, engaging in humorous and imaginative adventures that will resonate with both long-time Star Wars enthusiasts and newcomers to the galaxy far, far away.
---
LEGO Star Wars: All-Stars Cast:
A.J. LoCascio:  Stormtrooper
Abigail Marlowe:  L3-37
Alan Tudyk:  K-2SO
André Sogliuzzo:  Cassian Andor
Carolyn Hennesy:  General Leia Organa
Corey Burton:  Awan Zek
Dana Snyder:  Graballa the Hutt
Danny Jacobs:  Raam
Dave Filoni:  C1-10P
Ellen Dubin:  Captain Phasma
Eugene Byrd:  Zander
Fred Tatasciore:  Ka-Pao
Grey Griffin:  Maz Kanata
James Patrick Stuart:  Dengar
Jasmin Savoy Brown:  Lena
John DiMaggio:  Baash
Josh Peck:  Pace
Kelly Marie Tran:  Rose Tico
Kevin Michael Richardson:  Jabba the Hutt
Matthew Wood:  Roger
Max Mittelman:  Han Solo
Montse Hernandez:  Moxie
Nicolas Cantu:  Rowan
Robby Motz:  Conveyex Pilot
Taylor Lawrence:  Cpl. Estoc
Trevor Devall:  Admiral Ackbar
Vanessa Marshall:  Customer
Yvette Nicole Brown:  Lt. Valeria
Zeno Robinson:  Lando Calrissian
---
LEGO Star Wars: All-Stars Details:
Year of Debut: 2018
Type of Series: Animated
TV Channel/Platform: Disney XD
LEGO Star Wars: All-Stars Trailer:
LEGO Star Wars: All-Stars Episode List:
S1 E1: From Trenches to Wrenches: The Roger Story – Roger, the lovable battle droid, tells his life story, from his humble beginnings in the Clone Wars all the way up to his joining the fight against the fearsome First Order.
S1 E2: The Chase with Han / Escape with Chewbacca – Han Solo and a young mechanic named Pace get wrapped up in an ill-advised scheme to steal from the Empire. A young street swindler named Lena joins forces with Chewbacca.
S1 E3: Dealing with Lando / Han and Chewie Strike Back – Pace and Lena meet the smoothest mover and shaker in the galaxy, Lando Calrissian. Pace and Lena reunite with Han and Chewie where they encounter a fearsome Zillo Beast.
S1 E4: Scouting for Leia / A Mission with Maz – General Leia gives Moxie Freemaker the task of scouting old Rebel bases to see if they can be used for the Resistance. Moxie, Ka-Pao and Maz are taken to Ord Tellarom by Roger.
S1 E5: Rolling with BB-8 / Resistance on the Run – With the help of BB-8, Moxie and Ka-Pao rescue Roger. As the battle for the fate of the galaxy heats up, Moxie and team make their contribution to the survival of the Resistance.
---